CUP: RCR Ends Wild Period On High Note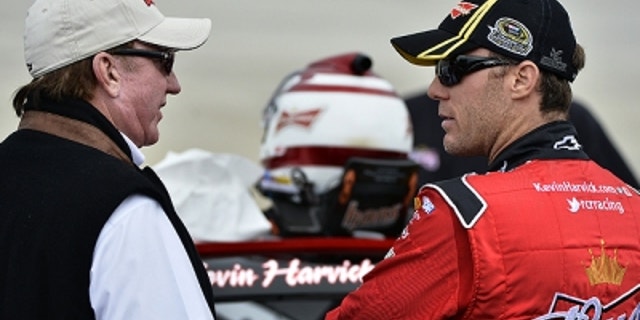 Few auto racing teams have had the bizarre sort of rollercoaster ride Richard Childress Racing has experienced in the first half of November.
A scorecard:
• The Childress engine operation loses a big customer, Chip Ganassi, who decides to ride with Hendrick Motorsports power next season.
• Truck driver Joey Coulter decides to move from RCR to Kyle Busch Motorsports next season.
• Kevin Harvick, who has been the foundation of RCR's Sprint Cup operation since the 2001 death of star Dale Earnhardt Sr., agrees to drive for Stewart-Haas Racing in 2014, leaving him in a season-long lame-duck situation with RCR next year.
• RCR Nationwide Series driver Elliott Sadler crashes late in Saturday's Phoenix race and gives himself only a slight shot at winning the series title this weekend at Phoenix. He trails leader Ricky Stenhouse Jr. by 20 points.
• Childress' grandsons, Austin and Ty, face uphill climbs in their respective divisions with championships to be decided this weekend. Austin is third in Nationwide, 25 points out, and Ty is third in trucks, 12 out.
• Jeff Burton, one of RCR's Sprint Cup drivers, wrecked two cars at Phoenix before finishing 13th in Sunday's race.
Childress could have been excused if he had flown home from Phoenix and avoided Sunday afternoon's AdvoCare 500 Sprint Cup race.
Good thing he didn't.
Harvick, a non-factor in the Chase and winless in 44 straight races, emerged from the smoke at the end of the race and held on through a two-lap shootout at the finish to win Sunday's race, spreading some sunshine into a dark period for RCR.
"You know, everybody has worked hard all year long and did a whole lot, and there's no question about it, we got a little behind on some of this skew (rear-end setups) and all this stuff that people were doing," Childress said. "It put us behind, and we didn't get the year we wanted, but to come out with a win, it was big, and I couldn't be prouder of this whole team, Budweiser and Kevin and all of these guys. It was really a good week."
Now RCR moves on to Homestead, where the Dillon boys and Sadler still have shots at championships and where Harvick, now eighth in points, will be looking for another strong run and to stay in the top 10 in the final standings.
Mike Hembree is NASCAR Editor for SPEED.com and has been covering motorsports for 30 years. He is a six-time winner of the National Motorsports Press Association Writer of the Year Award.