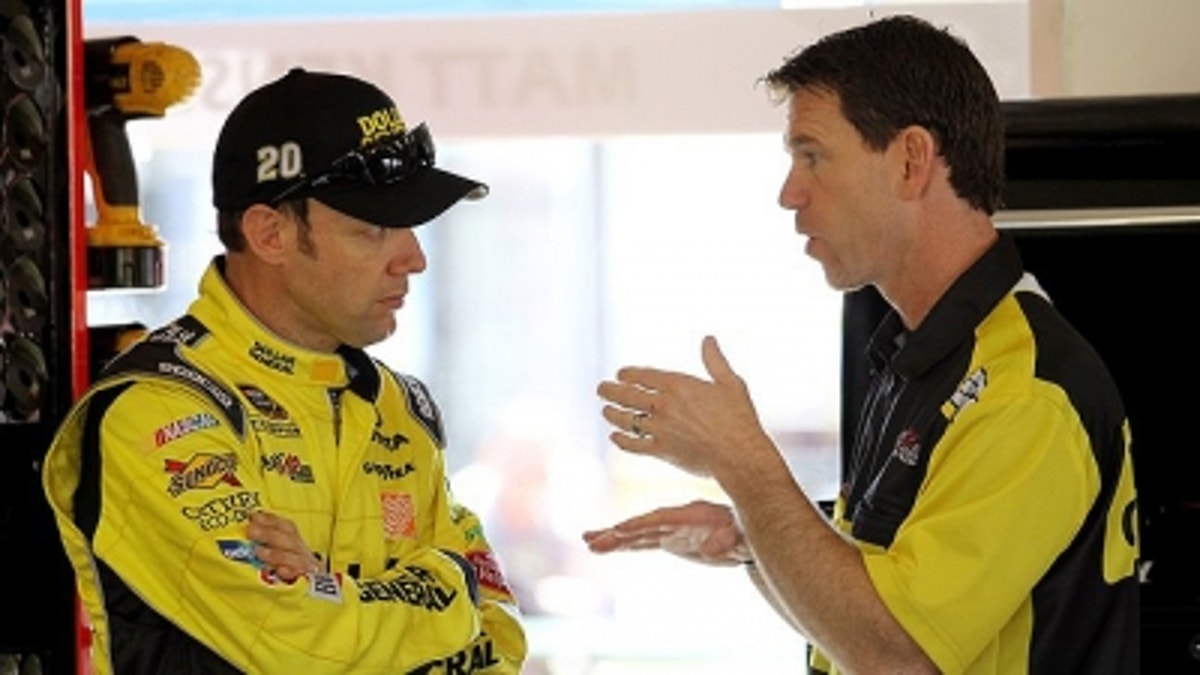 Joe Gibbs Racing crew chief Jason Ratcliff said Friday that the "spirit" of NASCAR rules was not compromised by Matt Kenseth's illegal engine last week at Kansas Speedway.
Kenseth and his team were battered by NASCAR penalties this week after the engine in his winning Toyota was found to have a light connecting rod in post-race inspection. Kenseth Thursday called the penalties "borderline shameful."
Included in the penalties is a seven-race suspension for Ratcliff, who is continuing to work with the team while JGR awaits an appeal.
"I do not feel like the spirit of the law was compromised," Ratcliff said Friday at Richmond International Raceway. "That's where we felt like the severity of the penalty is extremely harsh."
The penalties dropped Kenseth from eighth in the Sprint Cup point standings to 14th. He remains a strong Chase contender, however, and expectations are that he'll return to the top 10 or, in the worst-case scenario, qualify for a Chase wild-card spot based on race wins.
As part of the sweep of penalties, however, the Kansas victory will not count toward Chase eligibility. Kenseth also owns a win this year at Las Vegas.
NASCAR vice president of competition Robin Pemberton said Friday that NASCAR always treats violations in three areas – engines, tires and fuel – seriously.
"That's a common thread that's been understood, and it has stood the test of time for the last 65 years," Pemberton said. "Don't mess with those areas. The penalties are severe.
"When you look at engine penalties, they're severe for a reason. We don't take lightly somebody being out of bounds when it comes to an engine situation."
The engine in question was built by Toyota Racing Development, which has taken responsibility for the violation. Pemberton said NASCAR is not set up to police what he called "outside vendors."
"In today's world, we all know that it stops at the crew chief and owner and organization that's here to compete," he said.
Ratcliff said JGR has not selected a substitute crew chief if the team loses its appeals.
He opened a Friday morning session with reporters crowded around the team hauler by asking, "What are y'all doing here? Are we giving away money? We don't have any left!"
Asked if he will personally pay the $200,000 fine NASCAR imposed, Ratcliff said he hopes not. "We'll have to start a relief fund," he said.
Ratcliff said there is no question in his mind that Kenseth would have won the Kansas race despite engine questions. "We won Kansas," he said. "You can bet your bottom dollar on that. You make that change in that engine, and that race doesn't change a bit."
Ratcliff offered a firm defense of team owner Joe Gibbs, who drew a suspension as part of the penalties.
"He's an awesome guy," he said. "He would give you the shirt off his back, and to kick him like that, it's wrong. Especially what he's done for this sport and how loyal he's been to this sport. Typically, Joe is the kind of guy that you can throw it at him and he'll take it because he's got big shoulders and he'll move on. This isn't right. This isn't right for a team owner, and you look at the penalty and you say, 'Well, it's $200,000.' No, it's much bigger than that."
Mike Hembree is NASCAR Editor for SPEED.com and has been covering motorsports for 31 years. He is a six-time winner of the National Motorsports Press Association Writer of the Year Award.