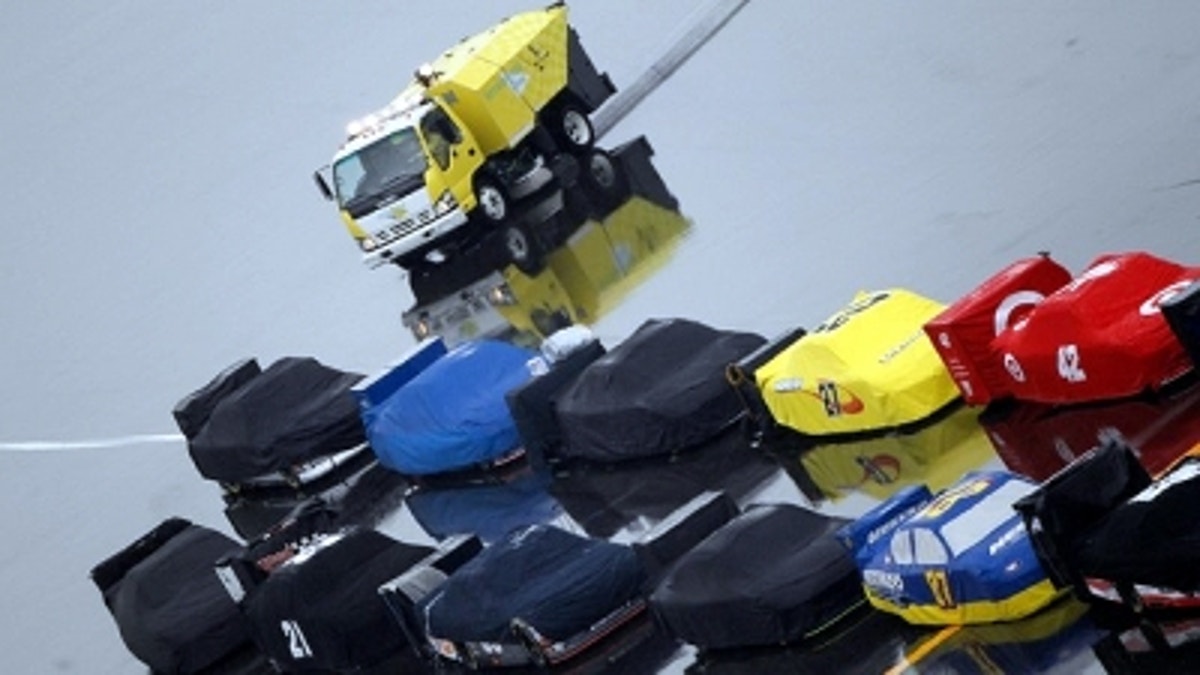 History was made Sunday at Daytona International Speedway, but it wasn't the pleasant sort.
For the first time in the 54-year history of the Daytona 500, NASCAR's marquee race was postponed beyond its original date. Persistent rain forced NASCAR officials to reschedule the race for noon Monday.
Rain began falling at the track Sunday morning, making it clear that the race would not start at its scheduled 1:30 p.m. slot. Showers soaked the track much of the afternoon.
The rain stopped for a while, and the speedway's jet driers had made progress drying much of the surface, but a new, large rain cell moved in about 5 p.m., and NASCAR officials, eyeing a forecast that called for more rain Sunday night, postponed the race.
"This is one of the toughest things for us drivers," pole winner Carl Edwards said. "When you put that off for another day, it's who can really stay focused – not just drivers but pit crews and crew chiefs and everyone. But I think we'll be just fine."
Edwards said he watched professional bowling on television during the rain delay and also repaired a rain-damaged awning on his motorhome.
Monday's forecast is rather gloomy. Forecasters call for a 70 percent chance of thunderstorms during the day, decreasing to 30 percent at night. NASCAR confirmed Sunday that it could start the race as late as early evening Monday.
Monday's rescheduled race will be broadcast by FOX. The command to start engines is scheduled at 12:01 p.m.
The rainout complicates matters for some race teams. Many of their haulers are scheduled to leave the Charlotte, NC area Tuesday morning for Arizona and the next race Sunday at Phoenix.
Mike Hembree is NASCAR Editor for SPEED.com and has been covering motorsports for 30 years. He is a six-time winner of the National Motorsports Press Association Writer of the Year Award.