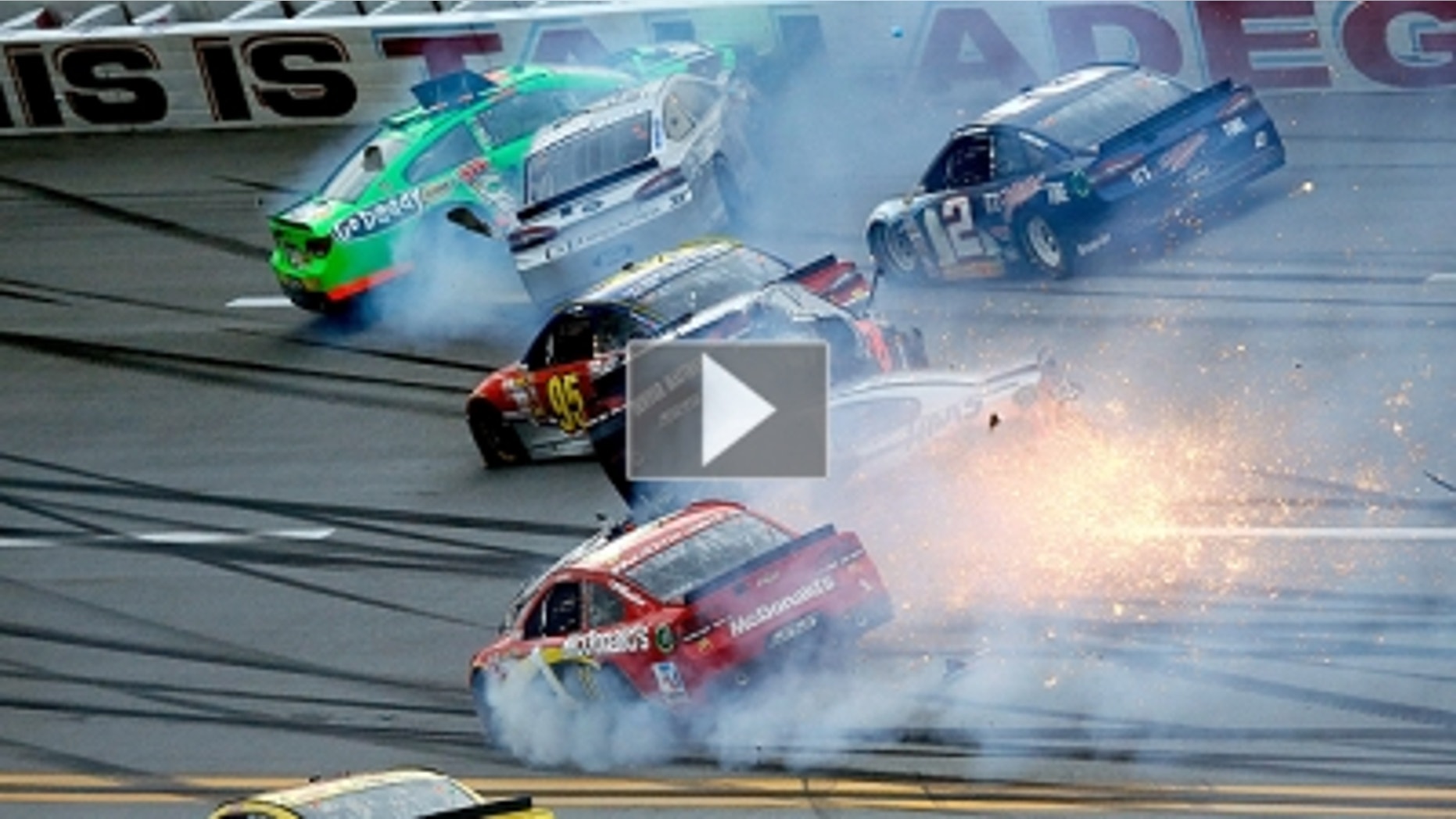 Mix in several inches of rain, a couple of spectacular wrecks, some choice words from Ryan Newman, night racing at a track that doesn't have lights and an upset winner, and what do you have?
Talladega.
NASCAR's biggest, meanest track seldom fails to deliver.
Sunday it had a witch's brew of components, from two savage wrecks to a race's worth of rain delay to furious post-race driver comments that, in one case, questioned the positioning of certain parts of the anatomy of NASCAR officials.
When everybody finally left eastern Alabama, their apparel soaked from cap tops to shoe bottoms, David Ragan – against all odds – had the trophy, and almost everybody else had the headaches.
Of those wounded by a day of near-insanity, Newman might have been the most impacted. It appeared for a while that he would be able to contain his rage post-race, but then it came out, as he suggested that NASCAR officials had their heads up their asses for finishing a race in near-darkness and with rain sprinkling a track that, over the weekend, seemed to become the central target for a weather system that dumped moisture across the Southeast.
Any time a car falls from the sky at Talladega, it seems to land on Newman, so his aggravation perhaps is justified. It happened again Sunday in the day's second big crash, as Kurt Busch's tumbling No. 78 fell on Newman's car.
"I am doing this interview to let everybody know I'm all right," Newman told a television interviewer. "They can build safer race cars, they can build safer walls. But they can't get their heads out of their asses far enough to keep them on the race track, and that's pretty disappointing. I wanted to make sure I get that point across. Y'all can figure out who 'they' is.
"That's no way to end a race. Our car was much better than that. That's just poor judgment in restarting the race, poor judgment ... I mean, you got what you wanted, but poor judgment and running in the dark and running in the rain. That's it, thank you."
A little while later, with darkness arriving and more rain threatening, the race had a typically magical Talladega finish as Ragan and his Front Row Motorsports teammate David Gilliland hooked up in a powerful draft on the final lap and left the other contenders in their wake.
And, for this wet weekend at Talladega, a wake is exactly what it was.
Mike Hembree is NASCAR Editor for SPEED.com and has been covering motorsports for 31 years. He is a six-time winner of the National Motorsports Press Association Writer of the Year Award.