CUP: Ragan Stuns With Last-Lap Victory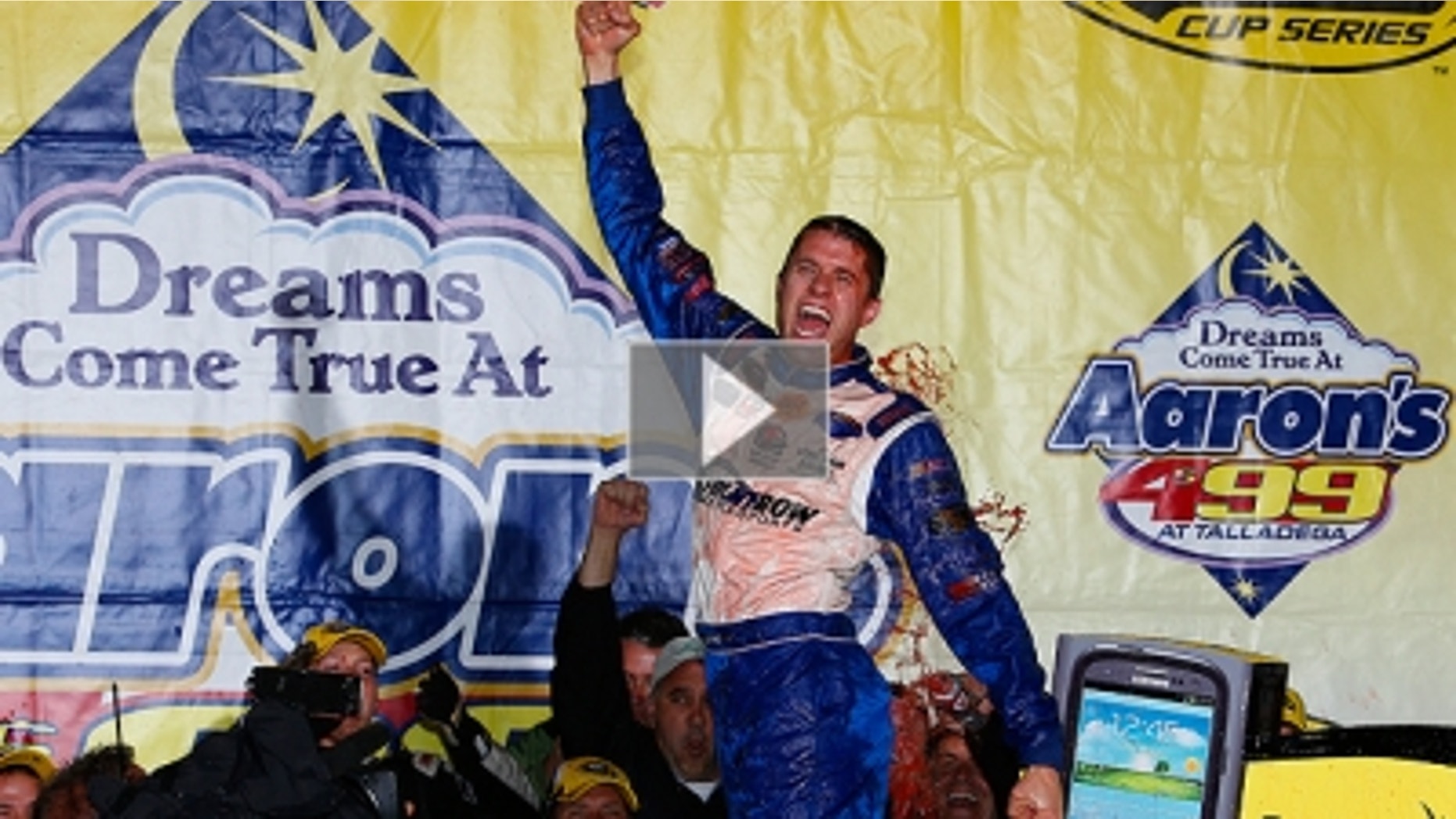 Talladega Superspeedway has always been a track where the unexpected happens, and Sunday's Aaron's 499 saw a finish that went far beyond unexpected to verge on the unbelievable.
On the last lap of a green-white-checkered finish in a long-delayed race, Front Row Motorsports teammates David Ragan and David Gilliland hooked up to finish 1-2 and give car owner Bob Jenkins his first NASCAR Sprint Cup victory in more than 400 career starts.
Aaron's 499 Race Results
Carl Edwards was third in a Roush Fenway Racing Ford, followed by Michael Waltrip in one of his own Toyotas and points leader Jimmie Johnson in a Hendrick Motorsports Chevrolet.
The marathon race was marred by a three-and-a-half hour rain delay and two mammoth crashes that snared more than half the field.
Ragan was eighth and Gilliland 11th at the final restart, but somehow found each other and got the front to score a hugely emotional triumph for everyone on the team.
It was a long and interesting race.
With rain threatening, Carl Edwards started from the pole, but quickly dropped back as outside pole-sitter Martin Truex Jr. took the lead on the opening lap.
At the start of the race, Tony Stewart and Denny Hamlin dropped to the back of the field in anticipation of Hamlin yielding to Brian Vickers at the first caution.
Matt Kenseth moved to the lead on Lap 7, his Joe Gibbs Racing Toyota again showing speed at a restrictor-plate track.
The first big drama occurred on Lap 22, when Travis Kvapil and Dale Earnhardt Jr. made contact, with both drivers pitting for body repairs and going down a lap.
On the following lap, Trevor Bayne lost an engine, bringing out the first caution and allowing Hamlin to get out of his JGR Toyota and Vickers to replace him.
Then, it got ugly.
On Lap 43, Kyle Busch nudged Kasey Kahne at the entrance to Turn 1, with Busch then going head-on into the wall and the field wadding up behind them.
"I'm alright and I caused it," said Busch. "… I just hate that I caused a hell of a melee for everybody."
All told, 13 cars got wrecked in the incident.
Among the cars taken out or at least out of contention were Stewart, Vickers, Greg Biffle, Jeff Gordon and Kevin Harvick, all potential race winners.
Busch also took out Kahne in the Daytona 500 earlier this year.
This time, Kahne was visibly irked. "No I didn't talk to him," Kahne said when asked if he had spoken with Busch. "I think we both probably know what happened."
Once the racing resumed, Kenseth dominated the first half of the race, as he had at Daytona before being sidelined by engine problems. All told, he led 84 of the first 100 laps.
Daytona 500 winner Johnson went to the point on Lap 118, right about when drivers and spotters started reporting sprinkles around the 2.66-mile track.
Four laps later, rookie Ricky Stenhouse Jr. went to the point as the cold and rain drew ever closer. But he was only in front briefly before Carl Edwards took the lead.
Then, on Lap 124, the caution came out for rain at the superspeedway, with four Fords out front: Edwards, Stenhouse, Logano and Keselowski.
Edwards made his pass just seconds before the yellow came out, but his timing proved perfect. The heavens then opened up, and the red flag came out for 3 hours, 36 minutes and 6 seconds.
Bobby Labonte led briefly after the green, although by Lap 135, Kenseth was back out front.
Johnson took the lead after a round of green-flag pit stops, but a caution for a blown tire on Michael McDowell's car in Turn 2 on Lap 174 set up a late-race shootout.
The track went green on Lap 179, with Johnson on the inside and Kenseth outside.
Then, with seven laps to go, the field wadded up on the backstretch, with Kurt Busch going airborne and over and landing on Ryan Newman's car crashing hard. Stenhouse triggered the crash when he tried to go high and hit JJ Yeley, who went down the track and into Busch. From then it was on, as Danica Patrick, Bobby Labonte, Clint Bowyer and several others were also involved in the crash. All told, 11 cars crashed.
Kenseth took the lead just before the accident, with Edwards second and Johnson third.
"Just not enough room," said Yeley. "… We were just trying to feed the kids and win the race."
On the green-white checkered finish, Johnson lined up inside and Kenseth outside, but Kenseth misjudged his run and the two Front Row drivers hooked up and drove to victory in a remarkable end to a long and often ugly race.
Points After Aaron's 499 Race
Tom Jensen is the Editor in Chief of SPEED.com, Senior NASCAR Editor at RACER and a contributing Editor for TruckSeries.com. You can follow him online at twitter.com/tomjensen100.