CUP: Qualifying Rained Out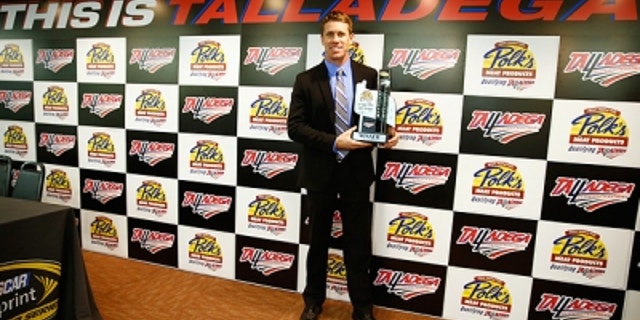 Persistent heavy rains today forced the cancellation of NASCAR Sprint Cup qualifying for tomorrow's Aaron's 499 at Talladega Superspeedway.
As a result, the field will be set by times from the first practice on Friday, which will put Carl Edwards on pole in the No. 99 Roush Fenway Racing Ford Fusion. He will be flanked by the No. 56 Michael Waltrip Racing Toyota of Martin Truex Jr.
Edwards nearly won this race in 2009, but instead wound up in the catchfence after contact with Brad Keselowski, who won his first Sprint Cup race and the first for car owner James Finch.
For Edwards, he expects more drama on Sunday.
"I guarantee the last couple of laps are going to be insane," he said.
Row 2 will be Marcos Ambrose and Joey Logano, with Ryan Newman and Matt Kenseth on Row 3. Completing the top 10 will be Denny Hamlin and the Hendrick Motorsports Chevrolets of Jimmie Johnson, Jeff Gordon and Kasey Kahne.
Reigning Sprint Cup champion Keselowski will start on the inside of Row 6, where he will be flanked by Dale Earnhardt Jr. Three-time series champ Tony Stewart will start 25th, two positions behind his Stewart-Haas Racing teammate Danica Patrick.
Hamlin, in his first race back since fracturing a vertebra in a hard crash at Auto Club Speedway in March, is expecting to get out of his car at the first caution and be replaced by Brian Vickers. Hamlin will drop to the back of the pack early, and Michael Waltrip said he would draft with Hamlin and attempt to keep him out of harm's way.
With nine races in the books, Hamlin is 71 points out of 20th place and likely will have to win two races and crack the top to make the Chase for the Sprint Cup field, which will be set after the 26th race.
"We have to just treat it like it's the last chance," Hamlin said. "It's game seven every single week for the next 17 weeks realistically for us."
Five-time series champion Johnson comes into Sunday's race with a points lead of 43 over Edwards and 46 over Hendrick teammates Kahne and Earnhardt.
The only driver to miss the race will be Elliott Sadler, who was attempting to run a fourth Joe Gibbs Racing Toyota.
Tom Jensen is the Editor in Chief of SPEED.com, Senior NASCAR Editor at RACER and a contributing Editor for TruckSeries.com. You can follow him online at twitter.com/tomjensen100.