CUP: Qualifying No Big Deal For Patrick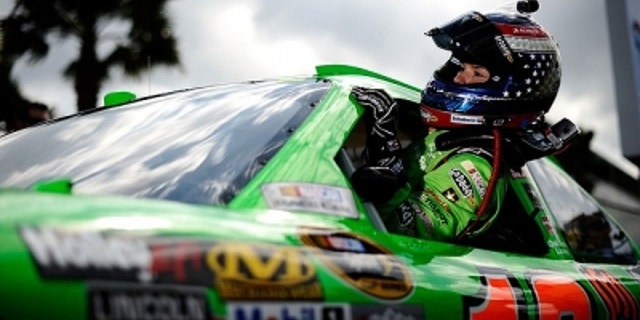 Danica Patrick qualified for her first Daytona 500 on Sunday, but the former IndyCar star said her day was pretty much devoid of drama.
Because of a deal previously negotiated between Stewart-Haas Racing and Tommy Baldwin Racing, Patrick was assured of making her first Daytona 500 by virtue of being in the top 35 in 2011 NASCAR Sprint Cup owner points. She officially made it into the field Sunday, qualifying 26th of 49 drivers setting times in Daytona 500.
Where Patrick actually starts the Daytona 500 will be determined in Thursday's Gatorade Duel qualifying races.
Patrick said her first qualifying effort for the Daytona 500 carried less pressure than trying to make the Indianapolis 500, where there are no locked-in starting spots and all 33 drivers qualify on speed.
"Well, honestly it's a lot easier to drive the car here at Daytona," said Patrick. "Since the track has been repaved, it's very straight-forward as a driver. Indianapolis is something that is a little more difficult. I think when Indy had been repaved, it was a little easier. But as tracks weather-in, they gain characteristics and they gain bumps and then they lose grip. I wasn't there for that first year of the track. So it was very hard. In fact, every year it got more difficult than the year before. So this is very straightforward."
And because it's easier, it didn't carry quite the emotional impact that Indy does.
"It's a little less nerve-wracking because there is a little less to worry about as a driver," Patrick said of Daytona. "But to say that I wasn't nervous at all is a lie. Of course I was, a little bit. I want to do a good job and I want to have a nice pretty smooth line out there and I want to do through the shifts nicely. But anyway, as far as nerves go, it was less nerve-wracking. But there was no lack of photographers and cameras."
Talk to any of the drivers at Daytona, and they will tell you that qualifying for the Daytona 500 is almost solely a function of car preparation; there is little that the driver can do that has much effect on qualifying.
"There is really nothing that I can ask them that's going to make a big difference," Patrick said of her SHR team. " ... It's really a product of the work of the guys through the winter and the details that they put into it. And honestly, I think we probably thought we might be a little quicker than we are right now. We were fast in January practice. It hasn't quite translated in the way that we anticipated it would coming into this week. But that's not the end of the world."
The big test for Patrick comes on Thursday, during the Gatorade Duel 150 qualifying races. Asked if she viewed that as a learning experience, Patrick said she did.
"Oh, wow. Big time, big time," she said. "It's going to be about getting some rapport with some of the drivers I haven't raced with yet and getting a feel for how the pack running is going to go. I'm not completely unfamiliar with the pack running. The first year here was some pack; and even last year in the first race of the year in Nationwide, we did pack running. It was interesting to watch how you can be very organized in a single file line. You can pull away. It was interesting to see how the tandem will work in the end. So, trust me, I'll be studying that last pass at the end (of the Budweiser Shootout on tape) with Tony (Stewart) and Kyle (Busch) to see when the perfect time is to do that."
Tom Jensen is the Editor in Chief of SPEED.com, Senior NASCAR Editor at RACER and a contributing Editor for TruckSeries.com. You can follow him online at twitter.com/tomjensen100.