CUP: Pocono Difficult For Teams To Manage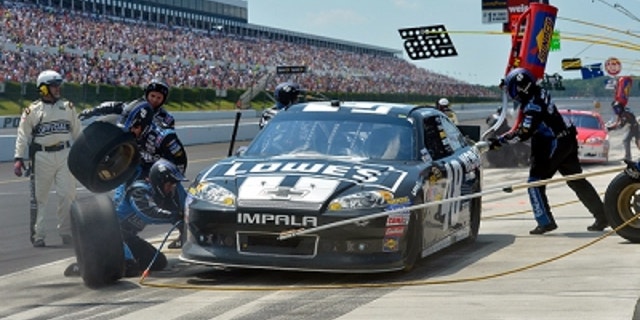 Article by Rea White, FOXSports.com
Pocono Raceway is notoriously a difficult track to manage.
With three unique turns, the 2.5-mile course brings drivers and crew chiefs challenges not seen at other tracks. Its unusual layout forces a balance between finding what makes one fast in a specific section without sacrificing too much in another.
"Can you have three least-favorite turns at Pocono? Every one of them gives me problems," Carl Edwards joked when asked about his favorite turn.
In NASCAR's June race at Pocono, the recently repaved track proved tough on tires and brakes as well, adding a new wrinkle for crew chiefs to try to manage.
And, lest one forget, pit road proved to be one of the toughest elements of all in June. The race set a record for pit-road speeding penalties, 22, as NASCAR drivers struggled to figure out where the electronic scoring loops were and when they could hit the gas.
Will that be an issue once more? What will the racing be like in Sunday's NASCAR Sprint Cup Pennsylvania 400?
Jimmie Johnson, the series' most recent winner and a driver who was caught speeding twice in that race, said pit road will definitely be something to keep an eye on in this return trip to the track.
"Yeah, I'll definitely be aware in that final segment leaving. I didn't feel like I was impatient there last time," he said, adding with a laugh: "So, I'll start more patiently. And then I feel like I can get back to where I was.
"But with so many people having trouble there, I'm not sure what took place. I'm sure it's a smaller segment, but we have much smaller segments at other racetracks that don't have as much trouble as that one did. So we'll be patient to start."
Matt Kenseth, who lost the Cup points lead after getting caught up in a late crash at Indianapolis Motor Speedway last Sunday, took a more philosophical approach.
"Well, as long as it isn't me getting caught I hope we see a lot of them," he said. "It certainly helps with track position. I think it all depends on whether people speed on pit road or not."
Pit road aside, drivers are entering this race weekend with differing agendas.
With the Chase for the Sprint Cup just six races away, the pressure is on — both for those drivers closer to the bottom of the top 10 and for those desperately trying to either break into it or snare one of the two wild-card berths that go to the drivers with the most wins who are closest to that top 10.
Drivers such as Kevin Harvick, who is sixth in the standings and 65 points ahead of the 11th-place driver but still winless this season, are working to get better and gain any kind of advantage entering the Chase.
He admits that the cushion gives him some comfort — but maybe not as much as one might think.
"Well it doesn't hurt anything, you just don't want to screw anything up," said Harvick, who is winless in his past 30 starts. "When you are in that wild-card position and you are trying to get in, not that we are no throwing everything at it that we have, but you are willing to take a lot more chances. You really don't have anything to lose. It helps but you just don't want to screw it up."
Others are feeling the pressure even more. Roush Fenway Racing's Carl Edwards enters the race winless this season and outside the top 10; just last season he finished in a mathematical tie for the title, losing it on a tiebreaker (most wins).
He said his team isn't panicking but knows it must win races.
"It is kind of fun in a way to just have that one singular focus," he said. "I think that we are going to be pretty good. I think we can do it. I know we can. We just have to go do it. We have to go make the most of these fast race cars."
Others understand that mentality.
Four-time series champion Jeff Gordon enters the race 15th in the standings and also without a win. He's 79 points outside the top 10 with only six races to go. His path to the Chase is clear: He must win, and possibly twice, to have a shot at a wild-card berth.
As he looks at Pocono, he sees a track where he liked the racing the last time out — and where he sees mistakes that cost him position he believes he can regain this round.
It's a thought most likely shared by many who will be vying for the win come Sunday.
"The thing that stands out to me was that I made a mistake on pit road and got caught speeding," he said. "So, we've got to eliminate those mistakes and continue to put out the effort that we're putting out. We've had fast race cars a lot of times this year, even last week at the Brickyard we had a great race car and I feel like we can do that again this weekend.
"Eliminate the mistakes, put a whole race together and there's no doubt this team can win."