CUP: Phoenix Power Rankings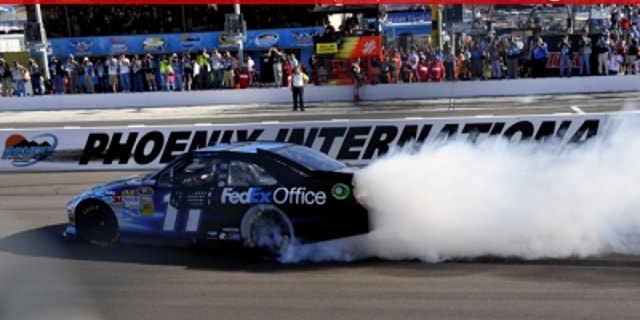 Denny Hamlin dominated the late going to win Sunday's Subway Fresh Fit 500 at Phoenix International Raceway, which also moved him to the top of this week's FOXSports.com/SPEED.com Power Rankings.
This week's list:
1. DENNY HAMLIN — Clearly, the addition of crew chief Darian Grubb has brought fresh energy and ideas to Joe Gibbs Racing. Hamlin is going to be hard to beat this year. Last week: 3rd.
2. MATT KENSETH — A 13th-place finish in the desert was nothing to get excited about for Kenseth, but he ought to rebound nicely next week in Las Vegas. Last week: 1st.
3. KEVIN HARVICK — Like Hamlin, Harvick has gotten a big shot in the arm from his new crew chief, in this case Shane Wilson. Great second-place finish for Harvick at Phoenix. Last week: 6th.
4. GREG BIFFLE — Biffle, traditionally a slow starter, opened the 2012 season with consecutive third-place finishes, which bodes well for his chances of a good season. Last week: 5th.
5. JIMMIE JOHNSON — Yes, Johnson his 38th in points after the Daytona wreck and the NASCAR points penalty. But he showed why he's so good on Sunday, driving from 25th to a fourth-place finish. Last week: 20th.
6. DALE EARNHARDT JR. — By passing two cars on the last lap, Junior moved up to 14th, his best position of the day. He really wasn't very good in Phoenix. Last week: 2nd.
7. MARTIN TRUEX JR. — Michael Waltrip Racing continues to show improvement, with Truex now sixth in points after a seventh-place run at Phoenix. Last week: 11th.
8. KYLE BUSCH — A sixth-place finish at Phoenix put Busch squarely between teammates Hamlin (first) and Logano (10th). Last week: 15th.
9. JOEY LOGANO — Logano narrowly edges out Mark Martin, because he's running a full schedule and Martin isn't, which means he'll fall out of here soon. Last week: 8th.
10. MARK MARTIN — The ageless won claimed the pole in Phoenix, but EFI issues held him back to a 10th-place finish. Last week: 10th.
11. BRAD KESELOWSKI — With Penske announcing a switch to Ford for next year, Keselowski didn't miss a beat, finishing fifth at Phoenix. Last week: Unranked.
12. CARL EDWARDS — Two races into the 2012 season and Edwards doesn't look like one of the pre-season championship favorites. In fact, he's third in points on his team. Last week: 9th.
13. JEFF BURTON — Tough luck for Burton, who blew an engine late, robbing him of a good finish. Last week: 4th.
14. BOBBY LABONTE — I don't think Labonte's name has been mentioned in the first two weeks of the season, but he's 11th in points. Last week: Unranked.
15. TONY STEWART — Whoops. Stewart shut his engine off under caution to save gas and lost two laps before it re-fired. That left him 22nd at Phoenix. Last week: 14th.
16. JEFF GORDON — Big Daddy had only an OK day at Phoenix, where he finished ninth. But OK is a big improvement over the Daytona debacle. Last week: 19th.
17. DAVE BLANEY — When the season began, Tommy Baldwin was going to start-and-park Blaney. Instead, he's 16th in points after two races. Last week: Unranked.
18. PAUL MENARD — It was a tough day for Menard who got caught up in a wreck with A.J. Allmendinger and finished 31st. Last week: 7th.
19. CLINT BOWYER — Two blown right-front tires made for a brutal race for Bowyer, who ended the afternoon 30th. Last week: 12th.
20. RYAN NEWMAN — The SHR driver got put into the wall by Carl Edwards, but still managed to finish 21st. Last week: Unranked.
Tom Jensen is the Editor in Chief of SPEED.com, Senior NASCAR Editor at RACER and a contributing Editor for TruckSeries.com. You can follow him online at twitter.com/tomjensen100.