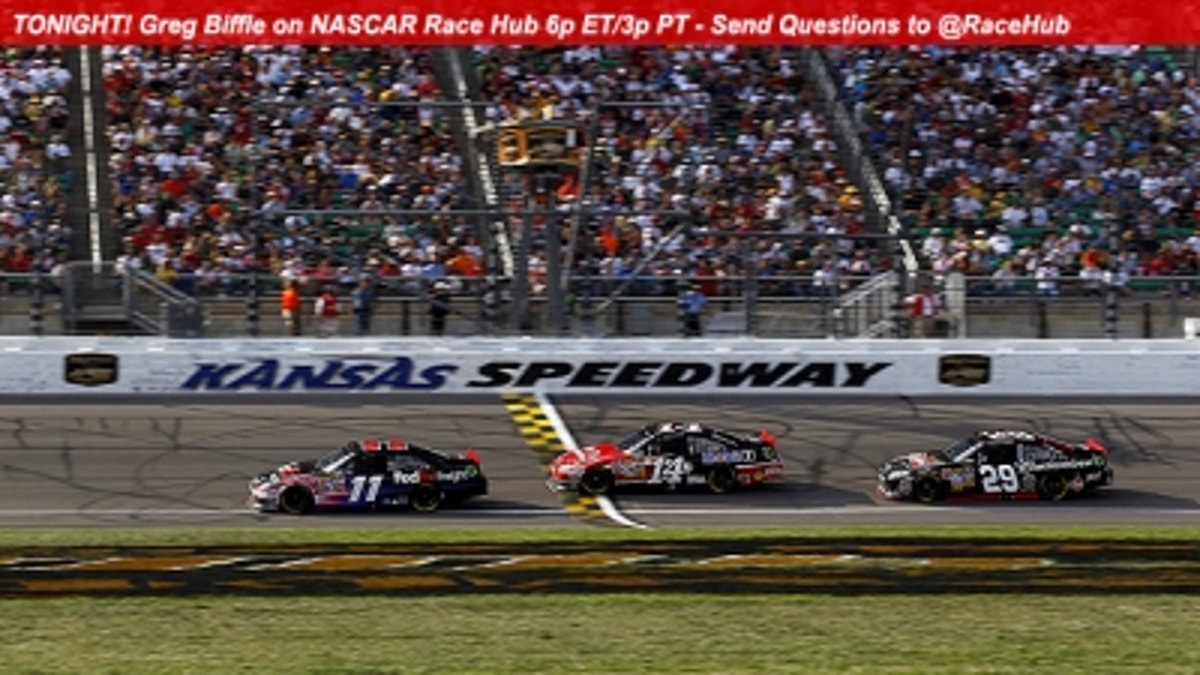 An Abrams tank and an Armored Combat Earthmover will join 43 Sprint Cup race cars at Kansas Speedway Sunday afternoon.
It's not for competition purposes (although a combat earthmover could be a formidable drafting partner, in the right context). The unusual vehicles will participate in a groundbreaking ceremony following the STP 400 as track officials launch work on a major repaving/reconfiguration project for the 1.5-mile speedway.
Sunday's race, the eighth Sprint Cup event of the season, will mark the final competition on the current track surface.
Between Sunday night and October, when NASCAR returns to the speedway, the track will be ripped apart and rebuilt in a new design. Significant changes include changing the turns to a variable design with 20-degree banking, reworking the frontstretch, backstretch and pit road and adding a road course to the infield.
"Given the harsh weather conditions in the Midwest, a repave of our existing racing surface was a must," said track president Patrick Warren. "Repaving a track is a huge undertaking, so we decided it was the right time to make the other changes to our facility, which we believe will enhance our fans' experience at Kansas Speedway."

Sunday's race was moved on the NASCAR calendar to allow more time for the spring/summer project before NASCAR returns to the track in the fall.
Drivers generally cast a wary eye on track repaving projects because they tend to enjoy racing on surfaces that have been worn by competition, weather and time.
"I don't know anybody that's a real fan of a repave," Jeff Gordon said. "The tracks don't want to incur the cost, but they know that it's necessary because of the structure of the pavement or the foundation underneath or whatever it may be that puts them into that box. They know that they're going to suffer on some of the racing because of the tires being harder, more durable for those types of new surfaces.
"I love Kansas. This has not been one of my favorite tracks, [but] right now I love this surface, I love Atlanta, and I love these worn-out race tracks. I think those are the race tracks that put on the best shows. It's just part of racing, and it's part of the evolution of pavement of how it's changed. That's just technology.
"I don't know what it's going to be like at Kansas. I know they're making some changes, and I hope it works out really well. We'll enjoy it as much as we can in this last, final race there on the old surface. Then we'll go to work on what the new surface is going to be like."
Jimmie Johnson said tracks should cover all the bases when jumping into a repave project.
"I understand the need is there," he said. "I feel we've learned a lot with progressive banking, and we can really help race tracks spend some time creating a middle grove and an outside lane. I can also say that we've learned that there's certain asphalt combinations now that are being put down that are going to last a long time, but they don't work very well.
"I think the one at Charlotte (Motor Speedway) is finally coming around. I think the one at Phoenix (International Raceway) is going to take a long time before it comes around. I would advise if anybody is listening to not choose that blend. Let's get to something that wears out. I'm sure it means repaves more often, but it's going to provide a lot better racing."
Mike Hembree is NASCAR Editor for SPEED.com and has been covering motorsports for 30 years. He is a six-time winner of the National Motorsports Press Association Writer of the Year Award.