CUP: Patrick Steps Forward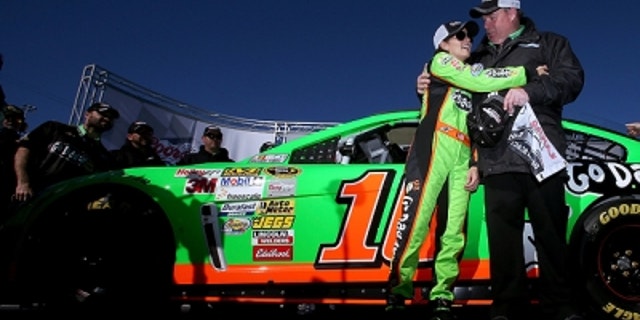 It could have been Janet Guthrie or Shawna Robinson or Patty Moise. Maybe Sara Christian or Louise Smith.
But it wasn't.
It was Danica Patrick, a 30-year-old former open-wheel driver who turns 31 soon, who became the first woman to win a Sprint Cup pole. Whatever else she might or might not do in her role as one of the most followed drivers in auto racing, Sunday will stand as a signal moment.
Fifteen women drove the NASCAR path before Patrick, including Christian, Smith and Ethel Mobley, all of whom raced in 1949, the first season. They were considered novelties, basically, something different to draw a few more ticket-buyers in Big Bill France's grand scheme (although each one also had her own particular driving talents).
Guthrie, who created a firestorm of sorts by arriving on the NASCAR scene in the 1970s, has more Cup starts – 33 – than the rest. She might have been the best of the bunch.
Until now.
Patrick wrote her name indelibly in NASCAR annals by winning the 500 pole, becoming the first woman not only to start first in the sport's biggest race but also the first female to win a pole in thousands of Cup series events.
The ground didn't shake, but the headlines moved from the sports page to the front page and websites were all dizzy with the news.
Running fast single-car laps at Daytona International Speedway is mostly about the strength of the car, but someone has to drive it, and the one who does it best on a particular day has to drive it a tad faster than the next driver. On this particular Sunday, that next driver was Jeff Gordon, a winner of this race three times and a rather sporty qualifier himself.
Patrick outran all of the pretenders Sunday and started a celebration the sort of which has never been seen at this revered facility. It's not often that the team owner's business manager gives the pole winner a big smooch on the lips, for example, and there aren't a lot of victory lane moments that have involved the pole winner's head resting gently on the crew chief's chest.
It was a day on which Patrick began the change from NASCAR pretty-girl driver to racer. The next step is the bigger one, making the shine last for a full race and wrestling with the frontrunners.
"We're going to do everything we can," Patrick said. "I understand my position. I have a good car. … I'm going to do my best to keep it clean, keep it out of trouble, get a feel for the traffic throughout the day, and hopefully put myself in a position, position-wise and knowledge-wise, to do a good job and bring it home where it started at the end of Sunday.
"But I have a lot to learn, too. I understand that. I mean, I have Jeff Gordon starting next to me. have, oh, my God, a herd of them behind me. I'm a rookie, and I am going to be learning as much as I can for 499 or maybe until the last 10 laps. When you implement your plan, it depends where you are. Hopefully, at the end of 500 we're rolling and we have a chance."
A Patrick win in the 500 is quite unlikely, of course. To date, her learning process in stock cars has been unsteady. The step up to a full-schedule run in Sprint Cup this year will be a very large one.
But she's won the pole for the Daytona 500.
No other woman can make that claim.
Mike Hembree is NASCAR Editor for SPEED.com and has been covering motorsports for 31 years. He is a six-time winner of the National Motorsports Press Association Writer of the Year Award.