CUP: Patrick Confident Approaching First Daytona 500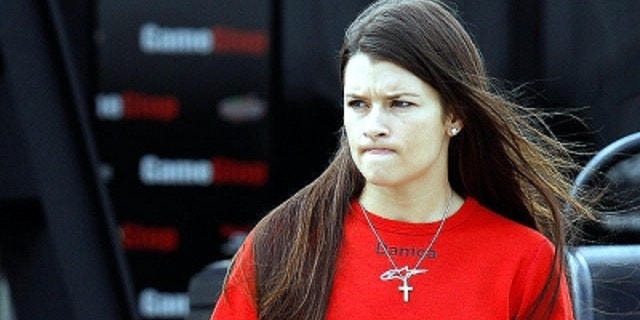 Danica Patrick will drive for the first time in a Sprint Cup Series race in the Daytona 500, NASCAR's biggest event.
But Patrick the rookie isn't being shy about what she might be able to do on stock car racing's biggest stage. She figures she has a shot at winning, and she isn't afraid to talk about it.
She describes her expectations as "very high, but I'm kind of curious what you would say about what other people's expectations are for Daytona because I think everyone feels they have a shot to win. As long as their car is relatively fast and there's going to be a little bit of a difference with maybe not doing quite as much tandem running throughout the race, I'll be curious to see how that goes.
"It's so much faster when you run with somebody, so we'll see how that plays out in the rules that NASCAR put on us to try to make that not happen. But I would imagine you get that from a lot of drivers – that there is that chance. It's like my first time going to the Indy 500 at Indianapolis. I knew I had a fast car. When I got asked how I felt when I was in the lead at the end of the race, I said I felt like that's where I should be all day.
"So here I am going to the biggest race in a year in a new series just like I was in IndyCar, and I have those expectations. Now, the rest of the season is going to have very different expectation levels. But Daytona is very unique, and there is a real chance for some great results there."
Although the 500 victory typically goes to one of a group of 10 or so favorites, it's not a total shock when someone drives in out of the blue and wins the race. One need look no further than last year, when 20-year-old Trevor Bayne drafted throughout the race like a veteran and emerged as the winner, a prediction very few would have made before the race.
"It's a big track, and it's an easy track to drive," Patrick said of Daytona. "If you have a fast car, you're going to probably go to the front. I think my inexperience is less of an issue because the car is easy to drive. For me, at a place like Daytona, it reminds me of racing Indy cars. It reminds me of our mile-and-a-half racing, where we'd always be in a pack. There was no bump drafting in IndyCar. That took some getting used to a little bit."
Although the Daytona 500 is in the early spotlight for Patrick, it's only a piece in what will be a big puzzle for her this season. She plans to run the entire Nationwide Series schedule for JR Motorsports while also running 10 Sprint Cup races for Stewart-Haas Racing, in partnership with Tommy Baldwin Racing after an off-season points scramble.
"Generally, I'm just really ready," she said. "I'm excited about the season. I'm excited about the racing. I'm a little bit nervous, too, because I want to do well. Any time you feel like you want to do well, whether it's on the track or doing your job, you get a little nervous because you feel a little pressure to want to do it.
"But I'm very happy with where I am. I'm very fortunate to have the opportunity I do with two fantastic teams. That's all you can ask for as a driver – to have good race cars and good crew chiefs."
Patrick has some experience at Daytona. She has run three Nationwide races at the track and has had progressively better finishes – 35th, 14th and 10th. She finished sixth in an Automobile Racing Club of America event at the track in 2010.
In 25 career Nationwide races, she has one top five and three top 10s and has led 18 laps.
She said she hopes to adapt quickly to the differences between Sprint Cup and Nationwide competition.
"I'll learn that," she said. "That's part of the process of what I've dealt with in Nationwide – getting familiar with what's acceptable on the track. I can put my car into someone's rear bumper as easily as they can put it into mine. It's about learning what that line is, though.
"So I'll always start from a respectful position of taking my time. I'm not going to go out there and get into everybody or any of that. It's about learning what the limit is on what's acceptable. Also, then, getting comfortable with the car and getting faster. .... I'm sure everybody amps up their game for the big day. So, for me, it's going to come through experience and practice and figuring it out."
Mike Hembree is NASCAR Editor for SPEED.com and has been covering motorsports for 30 years. He is a six-time winner of the National Motorsports Press Association Writer of the Year Award.