CUP: Patrick Attractive Exposure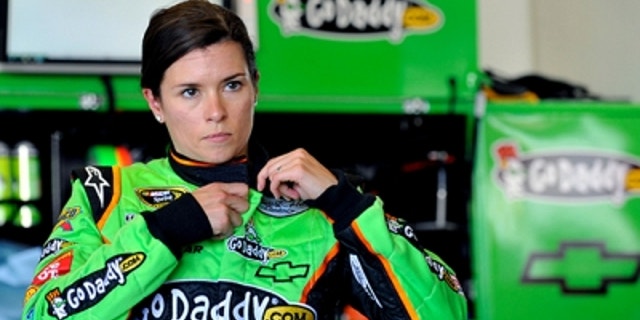 NEWYou can now listen to Fox News articles!
More than one NASCAR Nationwide Series driver has playfully observed that if he can't win a race, the next best thing is to run in proximity with Danica Patrick at some point: at least that guarantees TV time for his sponsors.
After all, reigning champ Ricky Stenhouse Jr. jokingly refers to the series as "Danica and everybody else."
No doubt they're having fun with the massive attention given to Patrick's commitment to NASCAR in 2012. But there are serious bucks at stake with racing's most-anticipated stock-car convert, and NASCAR — the sanctioning body, teams and drivers — stand to benefit big time from Patrick's move from the IndyCar Series to a full-time Nationwide and part-time Sprint Cup schedule.
"There is no doubt that the series is healthier with her in it," said Steve Phelps, NASCAR senior vice president and chief marketing officer. "It's taking a positive, and making it better."
In a time when corporate America is tightening its sponsorship purse strings and attendance and television ratings have been sagging, Patrick's presence could translate into a well-timed economic spark for the sport.
And it goes beyond the multimillion dollar GoDaddy.Com primary sponsorship she bring to her JR Motorsports Nationwide team and Stewart-Haas Racing Sprint Cup team. The widespread interest in her story — she will be only the third woman in NASCAR history to race in the Daytona 500 — generates buzz and creates marketing opportunities that will also boost her competitors and the series.
She brings a large, loyal and ready-made fan base from her years in IndyCar, where in 2005 she became the first woman to lead the Indianapolis 500 and in 2008 the first to win an IndyCar race.
And her brand, which ranges from bikini photo spreads in Sports Illustrated to racy GoDaddy.com commercials during the Super Bowl, makes her a household name with people who don't normally follow racing but will be curious to see how she bangs fenders with the good ol' boys.
Just how that translates into an economic impact remains to be seen, but rest assured, NASCAR is watching. And grinning ear to ear.
Phelps anticipates a healthy spike in merchandise sales and fully expects Patrick to be among the top 10 in driver-licensed merchandise. And GoDaddy.com isn't just investing in car sponsorship but also buying up TV commercial time.
"We haven't assigned a value to it all yet, but will it be positive? Yes," Phelps said.
"She is essentially providing her own fan base to us — driving eyeballs and a new audience to NASCAR. And our hope is these people will stay with us even long after she retires from NASCAR."
Although, Phelps said, it's too early to quantify the complete economic impact from her two partial seasons in the Nationwide Series, the television ratings show a significant gain when she's behind the wheel.
The 2011 July Nationwide race at Daytona International Speedway, for example, earned a 3.2 television rating — almost a full rating point higher than the 2010 race, when she didn't compete. That's a difference of almost 1 million viewers.
Another question is whether companies considering a NASCAR sponsorship — particularly in the Triple-A Nationwide Series — will be more attracted to spend money there knowing the spike in interest and media attention with her on the grid.
"For sure (there will be an economic impact)," Stenhouse insists. "It's a win-win no matter what. When you have more people showing up for the races, you have more people tuning in on TV. Sponsors like to see that.
"It's gonna be huge for our series, for Nationwide Insurance and for the guys like myself. It's gonna bring a lot more fans to watch every single weekend, and that's what our sport needs and that's what our series needs."
None of this is new for Patrick, however, whose souvenir sales led the IndyCar Series and whose presence there headlined race broadcasts, especially during the crown jewel, the Indianapolis 500.
When she won the 2005 Indy 500 Rookie of the Year honors, she received so much attention that the race winner, the late Dan Wheldon, jokingly had a T-shirt made up that read "I actually won the Indy 500."
The attention and hype has always been a delicate balance for her to maintain, although she humbly acknowledges it hasn't just benefited her career but helped bring interest to the racing.
"I don't think about that," Patrick said about the potential economic impact she provides NASCAR.
"But it's great that it happens and, hopefully, it allows some other drivers opportunities (for sponsors), too. I hope it's been a good thing even after I'm gone."
According to NASCAR research, using a recent NASCAR Fan Council poll, which is composed of people who identify themselves as diehard NASCAR fans, nine out of 10 people "strongly agreed" with the statement, "I hope Danica Patrick does well in the sport." And 80 percent of them felt strongly that Patrick was "good for the sport."
"It's incredible that she has that support across the board — age and gender — and that people really want to rally around her," Phelps said. "It's not going to be easy, and she knows it. But we're excited she's here."
And some would argue, Patrick — and NASCAR — have scored a victory before she even turns her first lap of competition this season.