CUP: Old School Battle Set At Darlington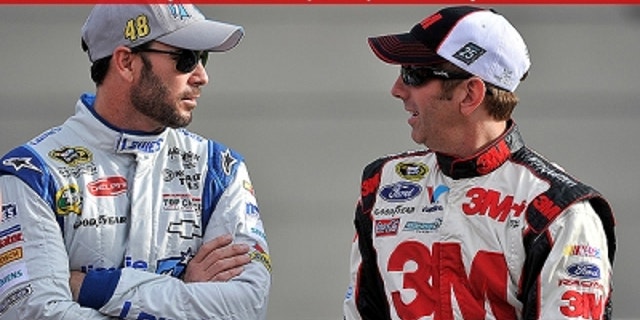 NEWYou can now listen to Fox News articles!
Old school.
It's how they roll at Darlington Raceway, the oldest superspeedway in NASCAR.
And tonight's Bojangles' Southern 500 is shaping up to be an epic battle on several levels.
The front row? Ford vs. Chevy.
The two top qualifiers? The current points leader Greg Biffle and the five-time past champion Jimmie Johnson.
The underdogs? Well, there's last-year's shocking upset winner, Regan Smith and Martin Truex Jr., both of whom could well make some serious noise. Brad Keselowski's been hot lately, too.
Joe Gibbs Racing teammates Kyle Busch and Denny Hamlin both are past winners here and both are qualified in the top 10.
And let's not count out Mark Martin, the senior driver on the circuit, or Jeff Gordon, Kasey Kahne and Carl Edwards, all of whom need something good to happen under the lights tonight.
Will America's Long National Nightmare finally end by Dale Earnhardt Jr. winning for the first time in almost four years?
Oh, yeah, and after a great 12th-place run in Friday night's NASCAR Nationwide Series race, can Danica Patrick go the distance in her first non-restrictor-plate Sprint Cup race?
Put it all together, and you can expect the unexpected for the 367 of the toughest laps the drivers will run all season long.
Johnson said Friday that he's pleased with the competitiveness of his No. 48 Chevrolet, despite the fact that Hendrick Motorsports is riding a 16-race winless streak.
"I feel really good about where are team is right now," said Johnson. "I feel, I guess my memory is a little short, but especially back to last year, I feel much more competitive now than I did last year. I feel that in our setups, we have more areas to develop still. Where last year we were kind of at the edge of our package in trying to find new speed. Right now we have a fast car and a lot of great ideas still to come, if that makes any sense. So I feel we're a lot stronger this year than we were last. I don't know how to compare it to other years, but things are really good right now."
But the man to beat right now appears to be Biffle, the pole-sitter and points leader.
Biffle is seeking to become the only driver in history to win championships in all three of NASCAR's top divisions. He came close in 2005, when he finished second, and '08, when he was third. Asked if he thought this was his best chance at a Cup title, Biffle allowed how it was.
"It's easy to say when you're leading the points that it's your best opportunity, but I feel like from a competitive standpoint we're running as good as we have in several years and I think we're as strong as we were in 2005 right now, I really do," he said. "So, the answer is yes I think."
The JGR Toyotas look plenty stout, too. Busch rolls off fifth, with Hamlin three positions back.
"We looked at the times and we looked at everything and we feel like we're the best cars right now," Hamlin said flatly. " ... This is a new car for us and I was very happy with our speed, very happy with race trim, qualifying trim — everything. I think we should have a pretty successful race and hopefully have a shot at it."
Tune into SPEED at 4:30 p.m. ET for NASCAR Raceday Fueled By Sunoco, live from Darlington Raceway.
Tom Jensen is the Editor in Chief of SPEED.com, Senior NASCAR Editor at RACER and a contributing Editor for TruckSeries.com. You can follow him online at twitter.com/tomjensen100.