CUP: Not Everyone Enjoying 2012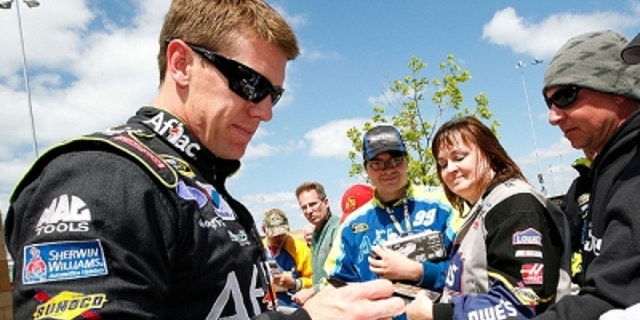 Greg Biffle is red hot and his Roush Fenway Racing teammate Matt Kenseth is doing nearly as well. Dale Earnhardt Jr. is relevant for the first time in years and Michael Waltrip Racing is relevant for the first time ever in the upper echelons of the NASCAR Sprint Cup Series. Stewart-Haas Racing is still winning with surprising regularity.
So far, the 2012 Sprint Cup season has seen plenty of surprises, with six winners in seven races and a whole host of new faces up front on a weekly basis.
But NASCAR racing is very much a zero-sum game: If one driver has improved, it means some other driver has slipped backwards. And when a whole bunch improve, well, it doesn't take a rocket scientist to figure out that some others are in trouble already.
Sunday's STP 400 at Kansas Speedway is just the eighth of 36 races on the 2012 Sprint Cup schedule, but clearly several top drivers are feeling the heat already. Here are five who need something big to happen on Sunday.
1. CARL EDWARDS — Yes, Edwards is a respectable 11th in points. But his Roush Fenway teammates Biffle and Kenseth are 1-2 and each already has won a race, while Edwards is riding a 40-race winless streak. The pressure is on to win at Kansas, which Missouri native Edwards considers a home track.
"You guys know there's no bigger race on the schedule for me than Kansas," said Edwards. "It's fun to be able to drive over here."
It would be more fun for Edwards if he wasn't more than one full race behind both his teammates. And, oh, yeah, Edwards hasn't led a single lap all season. Worse yet, he qualified 21st for Sunday's race, worst of the Roush Fenway drivers.
2. KASEY KAHNE — Without question, Kahne was greatly relieved to post a seventh-place finish at Texas last week after a disastrous start to his season. Still, like Edwards, Kahne hasn't led a lap all season long, and there have been 2,259 laps run so far. Mired back in 27th place in points, Kahne can't afford even a single additional bad race between now and the end of NASCAR's 26-race regular season. Kahne will start ninth at Kansas.
3. JAMIE MCMURRAY — During the pre-season Sprint Media Tour, NASCAR team co-owner Chip Ganassi called the 2011 performance of Earnhardt Ganassi Racing with Felix Sabates "pathetic." Honestly, it hasn't improved greatly this year, at least not so far. Missouri native Jamie McMurray was 27th in points last year and is only 23rd this year. Last year, McMurray finished six positions behind teammate Juan Pablo Montoya; right now, he's five spots back of Montoya. McMurray qualified poorly at Kansas, where he will start 36th.
4. KYLE BUSCH — The younger of the racing Busch brothers is 14th in points trailing Joe Gibbs Racing teammates Joey Logano (13th) and Denny Hamlin (sixth). Only twice this season has Busch finished in the top 10 in races — sixth at Phoenix and second at Auto Club Speedway — and those are the only two races in which he has led laps. Given that Busch was expected to be a title contender this year, those numbers are a huge disappointment. Busch qualified 25th at Kansas, his worst starting spot of the year.
5. JEFF GORDON — Like his Hendrick Motorsports teammate Kasey Kahne, Gordon's season has gotten off to a rotten start, with his best finish coming last week at Texas (fourth). But unlike Kahne, Gordon has led at least one lap in every race and came within three-quarters of a lap of winning at Martinsville. Still, he needs to win a race or two or at the very least knock off a bunch of top-10s in the next few races. Gordon will start 20th on Sunday.
Tom Jensen is the Editor in Chief of SPEED.com, Senior NASCAR Editor at RACER and a contributing Editor for TruckSeries.com. You can follow him online at twitter.com/tomjensen100.