CUP: No Penalties From Fontana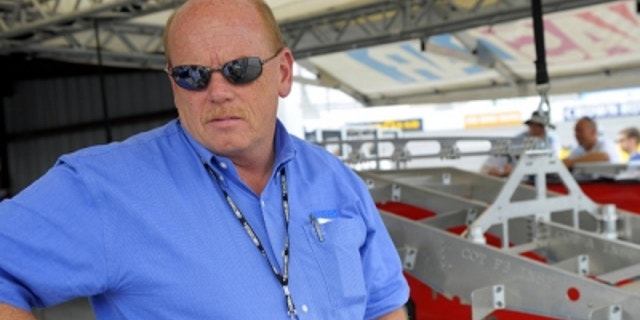 The end-of-race and post-race incidents that impacted Sunday's Auto Club 400 Sprint Cup race will not result in penalties or fines from NASCAR.
NASCAR Sprint Cup Series director John Darby said Tuesday neither the Joey Logano-Denny Hamlin last-lap crash nor the Tony Stewart-Logano post-race incident along pit road will produce penalties from the sanctioning body.
"A few years ago, we backed away from micromanaging drivers' emotions," Darby said. "You would hope in today's world that if somebody didn't win a race they would be upset about it for whatever reason. That's what our drivers do – they try to win races.
"A couple of drivers at the end of a race arguing a little bit doesn't create a foul in our world today. The crews did a great job of managing their drivers to make sure it didn't cross the line. … It's just another example of the state of competition in NASCAR racing and the disappointments that come sometimes when you don't win the race. I don't see any foul there at all."
Stewart, upset at a Logano block on the final restart of the race, approached Logano on pit road and lunged at him. Crew members from both teams separated the drivers. Stewart later said he would "bust his ass," referring to Logano.
Darby said NASCAR rules do not prohibit blocking and that the sanctioning body won't be stepping in to try to police that sort of activity.
"We're going to have close racing, close side-by-side racing, close front-to-rear racing," he said. "There's a lot of it that's just part of competition. As good as the racing has been and as exciting as it's been, I don't think we need to jump in the middle of any of that and screw it up."
Darby said the Logano-Hamlin crash, which sent Hamlin to the hospital with a fractured lower back, was a result of hard racing. He dismissed the idea that Logano might have been retaliating against Hamlin for problems they had with each other the previous week at Bristol Motor Speedway.
"It never even crossed anybody's mind, that I'm aware of, that paid attention to the race," he said.
Hamlin's crash occurred at a portion of the inside wall that is not protected by a SAFER barrier.
"In light of Denny's accident, I'm sure there will be more investigation done on that area of the race track," Darby said. "I also feel very positive about the fact that if a recommendation is made to install additional SAFER barriers in the area, the speedway will be very proactive in helping get that situation resolved."
Mike Hembree is NASCAR Editor for SPEED.com and has been covering motorsports for 31 years. He is a six-time winner of the National Motorsports Press Association Writer of the Year Award.