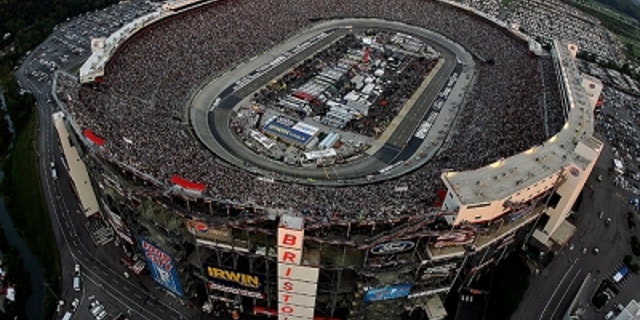 The next "new" test for the Gen-6 Sprint Cup cars arrives this weekend as the tour rolls into the eastern Tennessee mountains for the first short-track race of the season – Sunday's Food City 500 at Bristol Motor Speedway.
Drivers have raced the new model on a restrictor-plate track (Daytona), a flat one-miler (Phoenix) and a high-banked 1.5-mile track (Las Vegas) with mixed reviews.
Next up is Bristol, where high banks and tight racing room will make the car's new aero lines much less of a factor than in previous events. BMS is mostly about beating and banging and squirming for position – at relatively high speeds for a half-mile track.
It remains one of the toughest physical tests of the season.
"Bristol is one of those race tracks that defines what I feel a race car driver – what characteristics I feel a driver should have to be successful," said Brad Keselowski. "To win there makes me feel like more of a racing man. That place is very special. The way it challenges you both physically and mentally, it never gives you a break.
"The plate tracks are pretty demanding mentally but not so much physically. There are other tracks more demanding physically but not so much mentally. Bristol is both. To be successful there you have to find another level. You have to find your zone and you have to find it quick. If you don't, it won't take long for you to be punished."
Jimmie Johnson said he expects the on-track atmosphere to be different at BMS this weekend because of the new car.
"The bumpers aren't as square, so the bump-and-run can be far more effective," he said. "It was really tough to get somebody out of the way with the COT or Gen-5 car, so we might see a little difference there. I think the crash damage is going to be different.
"There is some glass on the nose of these cars that we can fold up pretty easily, and we might have to cut noses off the cars even from not being part of a crash, but just the stack-up on the restart might cave in noses. We might have some modified looking vehicles out there running around. There will be a learning process.
"I don't think the aero balance and implications there will come through, but we'll be talking a lot more about less weight, the type of camber we're allowed to run this year and things like that."
Practice for Saturday's Grit Chips 300 Nationwide Series race is scheduled at 10:30 a.m. (ET) 7:30 (PST) and 2 p.m. Friday. Sprint Cup practice is scheduled for noon Friday, with qualifying set for 3:40 p.m.
Mike Hembree is NASCAR Editor for SPEED.com and has been covering motorsports for 31 years. He is a six-time winner of the National Motorsports Press Association Writer of the Year Award.