CUP: Newman Knows Good Isn't Good Enough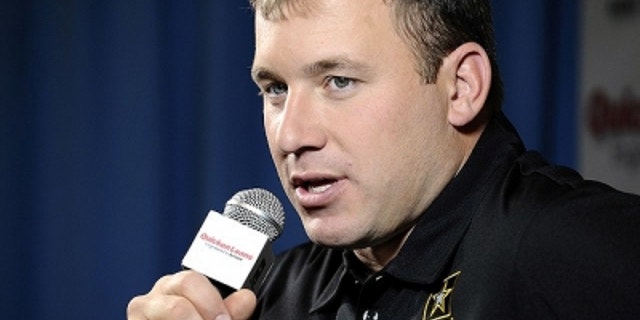 For most NASCAR Sprint Cup drivers, finishing in the top 10 in points for the second time in three seasons and winning a race would make for a pretty good season.
Not so for Ryan Newman.
When NASCAR's 26-race Sprint Cup regular season concluded at Richmond last September, Newman was ranked eighth in points, with one race victory, eight top-five and 13 top-10 finishes. Newman's numbers at that point were all better than his boss and teammate at Stewart-Haas Racing, Tony Stewart, who in the Cup regular season had no victories, three top fives and 11 top 10s.
But those stats totally flip-flopped during the season-ending, 10-race Chase for the Sprint Cup, when Stewart won his third series championship on the basis of five race victories, six top fives and eight top 10s. Newman, meanwhile, ended the season 10th in points after posting no victories, and just one top five and four top 10s in the Chase.
Even more telling is the count of laps led: Newman was out front for 132 laps in the Chase, while Stewart led a whopping 573.
So even though Newman is solidly ensconced at SHR and the team is on firm financial footing, he knows both driver and crew need to step it up in 2012. And he minced no words about it.
"We definitely failed from a team standpoint in those 10 races," said Newman. "Our chemistry dissolved and we have to control that better. That's one of the things we have to fix for 2012, hands down. And I feel like we've had some opportunities that got away from us."
For Newman, a big part of it is sealing the deal at the end and getting into victory lane instead of just earning a top-five finish.
"I won't say we've given races away, but we should have been in victory lane more often than we have been, " he said. "And those are the things we need to fix as well. Those things go hand in hand. When you can't fix those things and you know you should and are capable ... that makes it really tough to swallow."
Despite Stewart's success, Newman is cautious about getting too excited about SHR's prospects for 2012.
"It's awesome to see what we did as an organization, but at the same time, I'm the protective guy, I guess, maybe the analytical mind in the back that says, 'We can't get caught and surprised here at Daytona, thinking that we're awesome and we did all these great things and nobody's ever going to beat us again,'" said Newman. "Because that's not the case."
Newman knows that Stewart's surprise title run has forced the competition to redouble their efforts.
"Those guys that we beat from an organizational standpoint are fired up and mad," said Newman. "And they've been working really hard, so it's our responsibility to do that and more."
Which is what Newman and company will begin doing this week in Daytona. But the big thing this year will be to finish as strongly as Newman ran in the regular season last year.
"We had the stats after the first 26 (races) that a lot of teams would like to have as far as top 10s and poles, and a race win," said Newman. "So we had a good year. Then he (Stewart) turned his decent year into a great year in 10 races, which is absolutely amazing."
Tom Jensen is the Editor in Chief of SPEED.com, Senior NASCAR Editor at RACER and a contributing Editor for TruckSeries.com. You can follow him online at twitter.com/tomjensen100.