CUP: New Pocono Up For Grabs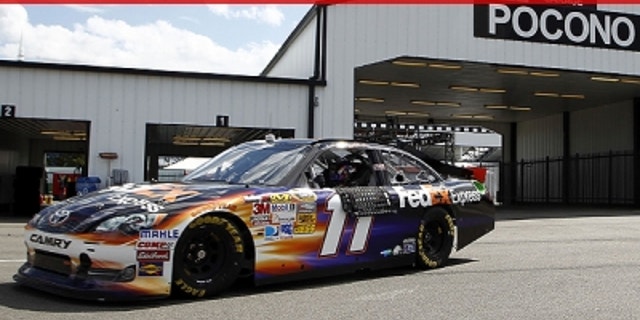 This much is known heading into today's Pocono 400: The three Joe Gibbs Racing Toyotas are fast.
Everything else?
Well, it's pretty much completely up in the air.
This time out at Pocono Raceway, the 43 NASCAR Sprint Cup teams will be dealing with a newly repaved track surface, a new tire compound, higher speeds, worse fuel mileage and a race distance that's 100 miles shorter than in years past.
True, JGR drivers Joey Logano, Kyle Busch and Denny Hamlin qualified first, fourth and fifth, respectively, and lead the list favorites for today's Pocono 400. But there's an awful lot that can — and likely will — happen before the race is over.
During three marathon days of testing, the teams discovered several trends: The pavement is so smooth that tire wear is virtually negligible. And, oddly enough, the tires actually got faster as they were used, not slower like at most tracks.
Speeds were way up as well, with Logano shattering Kasey Kahne's old track record by 7 miles per hour. Some drivers reported that they were entering Turn 1 at 215 miles per hour. But with increased speed comes increased fuel consumption and the one thing drivers can't afford is to run out of fuel on this flat, 2.5-mile triangle.
Drivers, too, are concerned about the racing surface: Will there be two equally good racing lanes, or will the race be a single-file processional?
"Well, just how much the track moves around (is unknown)," said Kasey Kahne, who qualified 10th. "To me, if it opens up enough on (corner) entry to where you can actually go in beside a car and not just have to slow way down if you're on the outside of a car, I think that's an unknown. I think as the race goes that will definitely get better."
Turn 1 is a place where drivers might not be aggressive as they would have on the old surface.
"You're not going to run three and four-wide into there now," said defending and three-time NASCAR Sprint Cup champion Tony Stewart. "It's just not rubbered-in in those areas. So guys are going to be — I'm thinking they're going to be a little more selective about when and where they try to make their moves."
Track position, always critical these days, will take on increased importance given that passing will be difficult. Some believe that the strategy will be to come in as soon as possible once the fuel window opens, rather than wait until the very end, which is the norm. So some teams likely will opt to short pit.
And without question, there will be plenty of two-tire and fuel-only pit stops.
"I would think that four-tire stops would be an endangered species," said Dodge engineer Howard Comstock. "These tires last and they're better scuffed than they are new so why would you put on newer, slower tires except for wear reasons? Eventually, you've got to consider wear but if the wear looks good and the tires are just as fast old, why put on something that's newer and slower?"
"It's definitely gonna be track position like a road course race," said Sprint Cup points leader Greg Biffle. "You're gonna want to get inside your window and stay out for track position because new tires aren't gonna go anywhere. I think everybody knows that."
So is Hamlin still the man to beat at Pocono?
Maybe, maybe not.
Hamlin said the new surface took his previous advantage away, although he and his teammates certainly looked speedy in qualifying.
Five-time NASCAR Sprint Cup champion Jimmie Johnson said he expects Hamlin will still be the favorite today, but others who haven't been as good in the past could step up.
"When I think of Michigan and Pocono, there's really three or four cars that are in the mix every time," Johnson said. "I think the repave shuffles that up some and brings more guys into the mix, so it could have an impact."
Tom Jensen is the Editor in Chief of SPEED.com, Senior NASCAR Editor at RACER and a contributing Editor for TruckSeries.com. You can follow him online at twitter.com/tomjensen100.