CUP: New Cars Draw Rave Reviews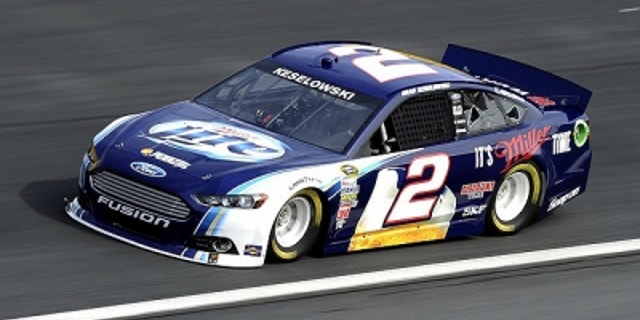 Sixteen of NASCAR's 2013 race cars took to Charlotte Motor Speedway Tuesday for the first of two days of testing, testing that by all accounts got off to a positive start.
And while NASCAR officials said there still could be minor tweaks to the rules package, the so-called G6 race cars — short for sixth-generation — are in pretty close to final form for all non-restrictor-plate tracks.
The evolution of the G6 cars will continue into the early part of the 2013 schedule, when there will be a day of testing prior to the Las Vegas and Texas races and additional practice at Auto Club Speedway.
The 2013 G6 cars tested Tuesday are substantially different than the NASCAR Sprint Cup cars 2007-12. In addition to new bodies, the G6 cars are lighter, with carbon-fiber hoods, and the rear sway bars have been eliminated to remove some of the skew out of the chassis.
Tuesday at Charlotte, the cars drew strong praise from the drivers.
"I know everybody's probably really curious about how we think that the racing's going to go and this and that and the other, but it's really early in the game," said Dale Earnhardt Jr., driver of the No. 88 Hendrick Motorsports Chevrolet. "This is the first time I drove the cars at all, but I'm really impressed.
"I really liked the way — the balance of the car, the downforce seems to be relatively good, and the car drives well for us today. We'll just move through the next couple of days here and keep tuning and trying things, and see what the car likes and doesn't like."
"The cars feel good," added Matt Kenseth, who now drives the No. 20 Toyota for Joe Gibbs Racing. "They've got a ton of grip. I felt like they had a lot of rear grip, especially. … Overall, it seems like a lot more grip than when we raced here in the fall."
Reigning NASCAR Sprint Cup champion Brad Keselowski said he reckoned the Toyota teams were the early leaders in the G6 cars.
"I think the Toyotas have shown that they're gonna be really, really tough to beat with this new car," said Keselowski. "I really like the way they finished last year, and, for them, I think they have the capability of starting out next year even stronger than the field, so that will be interesting to watch, but there's still a lot of testing and a lot of development left to be done. However, if I was to venture a guess, I would definitely say that they're at the top of the list."
In the morning session at CMS, where cold temperatures made for high grip levels, Jeff Burton topped the speed charts at 190.833 miles per hour in his No. 31 Richard Childress Racing Chevrolet.
Cars ran only single file in the morning practice, but were expected to do some pack racing in the afternoon.
SPEEDS, 1st SESSION
Jeff Burton, No. 31 Richard Childress Racing Chevrolet, 190.833 mph
Kevin Harvick, No. 29 Richard Childress Racing Chevrolet, 190.215
Austin Dillon, No. 27 Richard Childress Racing Chevrolet, 189.934
Kasey Kahne, No. 5 Hendrick Motorsports Chevrolet, 189.853
Joey Logano, No. 22 Penske Racing Ford, 189.321
Matt Kenseth, No. 20 Joe Gibbs Racing Toyota, 189.175
Dale Earnhardt Jr., No. 88 Hendrick Motorsports Chevrolet, 189.122
Juan Pablo Montoya, No. 42 Earnhardt Ganassi Racing with Felix Sabates Chevrolet, 189.016
Denny Hamlin, No. 11 Joe Gibbs Racing Toyota, 188.580
Regan Smith, No. 24 Hendrick Motorsports Chevrolet, 188.449
Brad Keselowski, No. 2 Penske Racing Ford, 187.891
Ryan Newman, No. 39 Stewart-Haas Racing Chevrolet, 187.435
Casey Mears, No. 13 Germain Racing Ford, 187.428
Bobby Labonte, No. 47 JTG-Daugherty Racing Toyota, 185.663
Aric Almirola, No. 43 Richard Petty Motorsports Ford, 185.516 mph
Trevor Bayne, No. 21 Wood Brothers Racing Ford, 183.286 mph
Tom Jensen is the Editor in Chief of SPEED.com, Senior NASCAR Editor at RACER and a contributing Editor for TruckSeries.com. You can follow him online at twitter.com/tomjensen100.