CUP: NASCAR Tuesday Notebook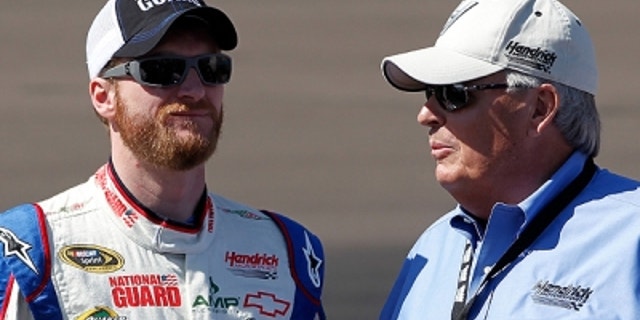 Junior Drives Into Car 'Bidness' – Like his father before him, Dale Earnhardt Jr. is in the car business.
Earnhardt Jr., who once was an oil-changer at his father's Chevrolet dealership in Newton, NC, has opened a pair of dealerships in Tallahassee, FL in partnership with Rick Hendrick, his NASCAR team owner.
Dale Earnhardt Jr. Chevrolet and Dale Earnhardt Jr. Buick GMC Cadillac opened under their new names Monday.
"This is something Rick and I have talked about doing ever since I came to Hendrick Motorsports, but we agreed it had to be the right situation," Earnhardt Jr. said. "I was a mechanic in a Chevy store before I started racing, and I've always loved General Motors products and been interested in the dealership business."
The dealerships are the first in the Tallahassee area for Hendrick Automotive Group, which will manage the stores. Hendrick operates 84 dealerships in the United States.
Goodyear Not Tired Of Michigan – Sprint Cup teams will race with a new tire compound at Michigan International Speedway this weekend, and expectations are that speeds will be slightly slower than the rocket-like times drivers registered at the track in mid-June on the first race after a repaving.
Spot speeds approached 220 miles per hour on the two-mile track, and Goodyear made a tire change the night before the race. A recent test at the track confirmed the new tire for this weekend.
"Our last Goodyear test with the 5-hour Energy team at Michigan was really helpful," Clint Bowyer said. "Goodyear brought a tire that wasn't as fast as the original tire from the first race but was somewhere right in-between what we raced and what we started with. I think it was a pretty good compromise as far as the speeds and the handling. I give Goodyear a lot of credit for going back to Michigan to make sure that we have a good tire for this race.
"And, from our standpoint, the extra test time definitely helps. We learned some things that we took with us to Pocono and found a lot of speed for this trip back to Michigan. … I think we found some things that are going to make us very competitive. And I just had my best finish ever (seventh) at Michigan in our last visit, which never hurts. Hopefully, we can make it just a little bit better this time around."
'Day In The Office' – Kevin Harvick acknowledges the accelerating speeds at Michigan International Speedway but says they aren't particularly remarkable from the driver's seat.
"Obviously, the speeds were high, but, from where we sit, after you run two or three laps you become accustomed to how fast you are going," he said. "It probably looked faster from the outside, but to us it was just another day in the office."
Gordon Into Something Fishy? – Jeff Gordon is scheduled to visit with the fishes Aug. 23 at the Georgia Aquarium and then will officiate a "race" between some of the facility's most popular mammals – its dolphins.
Gordon will appear at the aquarium as part of a promotion for the Advocare 500 at Atlanta Motor Speedway.
Gordon also will participate in a question-and-answer session with fans in the aquarium's main rotunda.
Mike Hembree is NASCAR Editor for SPEED.com and has been covering motorsports for 30 years. He is a six-time winner of the National Motorsports Press Association Writer of the Year Award.