CUP: NASCAR Suspends Allmendinger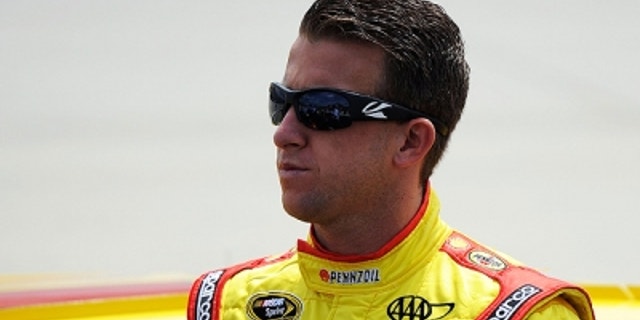 NASCAR temporarily suspended driver AJ Allmendinger for a failed drug test, and Penske Racing officials were scrambling to get Sam Hornish Jr. to the track before Saturday night's race at Daytona International Speedway.
Allmendinger's suspension was announced about 90 minutes before the race by NASCAR senior vice president of racing operations Steve O'Donnell.
Allmendinger's "A" sample taken last weekend at Kentucky Speedway came back positive, and the driver has 72 hours to request his "B" sample be tested.
"NASCAR has a strict drug testing program that Penske Racing fully supports. Penske Racing will work with NASCAR through this process and its next steps," the team said in a statement.
Penske Racing President Tim Cindric says NASCAR notified the organization Saturday afternoon, and the immediate focus became getting Hornish back from North Carolina, where he was about to do a live television show on SPEED.
Hornish finished 10th in Friday night's Nationwide Series race, and the team sent a plane to get him back to Daytona, where Allmendinger was scheduled to start eighth.
"It's really been a whirlwind since we were notified, and we really just needed to get Sam back to Daytona," Cindric told The Associated Press in a telephone interview. "We spoke briefly with AJ before he left, and we agreed we'd talk when we get back."
Cindric did not reveal details of the conversation with Allmendinger, and said the organization is still trying to digest the information.
"Certainly there's no closure, and it's just not that simple of a situation," Cindric said. "We need to let the process take care of itself. It's a situation we've never been in before, and when we were notified he failed the test, the next step really became getting Sam to Daytona and agreeing to table everything else until we're all back."
Cindric is in Toronto for Sunday's IndyCar Series race, and team owner Roger Penske has been on a European vacation. Bud Denker, senior vice president of Penske Corp., also wasn't in Daytona.
Allmendinger was hired in late December by Penske to fill the seat that opened when Kurt Busch split with the organization. It's the most prolific ride of Allmendinger's career, and both driver and team seemed thrilled with the pairing even as Allmendinger has had his struggles in the No. 22 Dodge.
He was 23rd in the Sprint Cup Series standings heading into Daytona, where he won an emotional Rolex 24 Hours of Daytona sports car race in January shortly after his hiring at Penske.
He's the most prolific driver since Jeremy Mayfield in 2009 was suspended for a failed drug test. Mayfield has fought NASCAR over the test since, and has not raced a NASCAR event since.
Asked if Penske Racing is supporting Allmendinger, Cindric indicated the team is behind its first-year driver.
"He's our driver and that why it's important to understand all the facts," Cindric said. "It's very difficult to speculate on how it should be handled. On one side, we have personal relationships, and on the other, well, it's a business side. We've not been through this before, and we just really want to understand this some more."