CUP: NASCAR Stars Mourn Loss Of Shelby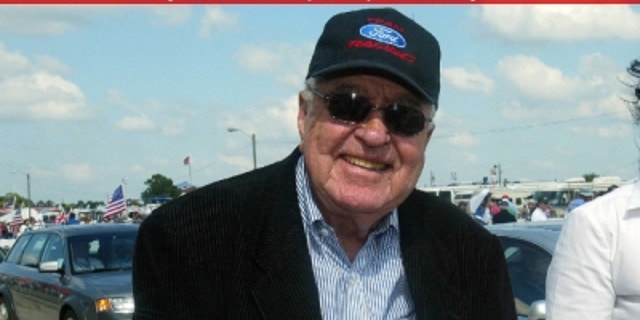 Friday afternoon at Darlington Raceway, word began to filter through the NASCAR Sprint Cup garage about the loss of racing legend Carroll Shelby, one of the true heroes and icons of American motorsports. Here's what some of today's NASCAR participants had to say about Shelby.
"He just was so innovative. I just love when people are forward-thinking and have a passion for cars, whether they're sports cars or these (NASCAR) cars. I have a bond with anybody that appreciates cars at all, and he was just so into the automobile. I think it's a day ... if you hear about me passing at 89, let's be celebrating. So I think it's a day we celebrate his life and just be thankful he touched us." — Michael Waltrip
"He was a good friend of Roger's (Penske), first and foremost, which I thought was really important to note. He'll be missed by everybody at Penske Racing. Penske has this deal about appreciating racers and the things they do. He was definitely a racer. It's a shame to see him go and we'll all just remember the mark he left on the sport and automobiles in general." — Brad Keselowski
"My focus (growing up in Southern California) was really on the dirt. But knowing the Cobra and his history in sports car racing and what history he had here in the States and know what he did at Le Mans and on the world circuit, you just knew about it. I knew where his facility was. I had a sponsor in the general area and I'd drive over and get free clothing all the time and on my way out I would see his big building and everything that was in there. I'd always drive by and smile and I knew that he had some awesome machinery in there. But, he's done so much for automobiles, plus racing. His vision and early days of pioneering and finding speed and lighter cars and bigger engines; the stuff that has become synonymous today with racing, but he was the one doing that back in the day. And it really represented the U.S. well abroad and took down Ferrari at a key point in time, which was awesome to see." — Jimmie Johnson
"That's tough news. I've got a few of his cars and he was an inspiration to all car collectors and car guys across the country. I grew up in that era when all the muscle cars were happening and he did a lot of stuff for hot rods and other cars." — Greg Biffle
"Man, this is a sad day. That man was a pioneer of motorsports in general, a visionary, made things happen. And just a good guy. Built a hell of a product for a lot of years. He was a competitor, and always did right by the fans, by everybody involved in motorsports. He was a fan of motorsports, didn't matter what it was. He was certainly a fan of our NASCAR races over the years and came and just made everybody else, no matter what manufacturer or what brand he pushed or whatever else, anybody that was involved in motorsports was a Carroll Shelby fan." — Clint Bowyer
"It was amazing what he did and it's a huge loss to our generation." — Mark Martin
Also, several prominent figures in NASCAR and the racing industry released statements praising Shelby's work and legacy:
"Carroll Shelby was a giant in the motorsports industry and the automobile industry overall. Known primarily as an innovative automotive designer, he started building his legacy as an outstanding driver. Along the way, his name became iconic. On a personal level, he was simply a good friend to so many of us. Our thoughts and prayers are with his family." — NASCAR Chairman and CEO Brian France
"Carroll Shelby was a visionary for performance and speed for the Ford Motor Company. It was his ideas that helped push the Cobra and most recently the Mustang brand to the American people. He was an innovator of his time and helped Ford become a leader in the racing and performance world. The entire Petty family sends their prayers to the Shelby family." — Richard Petty
"Carroll was one of the best friends I ever had. He was known all over the world as an icon in the automotive industry and one of the greatest names in the history of motorsports. He was a great Texan and a great innovator with a style of his own. I'll never forget how he would climb out of that sports car with bib overalls and a cowboy hat. Ford will do all but close the company because of his passing. I admired him a great deal and will miss him greatly as a friend and a business partner." — Speedway Motorsports Chairman and CEO Bruton Smith
"Today, we have lost a legend in Ford Motor Company's history, and my family and I have lost a dear friend. Carroll Shelby is one of the most recognized names in performance car history, and he's been successful at everything he's done. Whether helping Ford dominate the 1960s racing scene or building some of the most famous Mustangs, his enthusiasm and passion for great automobiles over six decades has truly inspired everyone who worked with him. He was a great innovator whose legend at Ford never will be forgotten. Our thoughts and prayers go out to his family and friends." — Edsel B. Ford II, member of the Board of Directors of Ford Motor Co. and great-grandson of Henry Ford
"In the history of our company there are a handful of men who have stamped their imprint on the heart and soul of what we do at Ford Racing and Carroll Shelby is definitely one of them. I'm just so fortunate to have had the opportunity to meet him and our thoughts and prayers go out to his family. We at Ford and his legions of fans will have a silent moment to reflect on what he's done for the company. It's personal for me and I'm sure it's personal for many fans." — Jamie Allison, Director, Ford Racing
"We're saddened to learn of the passing of Carroll Shelby. He made monumental contributions to automotive design and racing engineering that changed the way the world looked at American performance cars. Carroll was an American original. There never will be another quite like him. We were honored that he drove the Pace Car twice at the Indianapolis 500, as his spirit of ingenuity and innovation was a perfect match for 'The Greatest Spectacle in Racing.' We extend our thoughts, prayers and sympathies to his family and friends." — Indianapolis Motor Speedway Corporation President and Chief Executive Officer Jeff Belskus
Tom Jensen is the Editor in Chief of SPEED.com, Senior NASCAR Editor at RACER and a contributing Editor for TruckSeries.com. You can follow him online at twitter.com/tomjensen100.