CUP: NASCAR Season Kicks Off At Daytona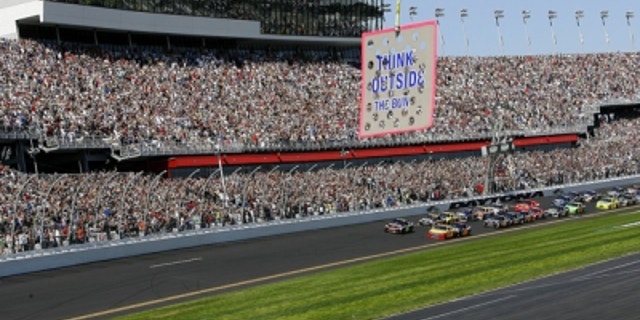 It's time!
For the next two weeks, NASCAR's three major touring series will take over Daytona International Speedway for practice, qualifying and, after an extended offseason, some racing.
The 2012 NASCAR season is finally here.
Hours of coverage of both the on-track and off-track action will air on FOX and SPEED during this stretch.
So, what should you be paying attention to? When's everything taking place?
We've got you covered, so let's get started.
Thursday, Feb. 16
8 a.m. - 4 p.m. ET — Media Day at Daytona International Speedway
Here you go. Drivers have one last chance to make predictions about the upcoming season before they hit the track and begin to see where they match up against the competition. It's a great day, one in which optimism is rampant and offseason changes seem like incredibly wise moves. This year, the hot topics will be the electronic fuel injection system, the ability of Tony Stewart to repeat or Jimmie Johnson to surge back and the impact a lengthy list of offseason moves will have on the teams.
Expect some off-the-wall questions as well, and some glimpses into unique aspects of drivers hobbies and personalities. It's a fun day for fans to learn a little more about their favorite driver — and to discuss expectations for what the season holds.
FOXSports.com senior NASCAR writer Lee Spencer, senior editor Jorge A. Mondaca and writer Holly Cain will have you covered right here. SPEED will have you covered with a two-hour special Race Hub covering the day's event, slated to begin at 6 p.m. ET.
9:30 a.m. ET — Sprint Cup Series haulers arrive at Daytona International Speedway
1-5 p.m. ET — ARCA practice
ARCA drivers have their first inking of the promise 2012 holds as well. A diverse field will take to the track for practice for the opening event for the season.
Friday, Feb. 17
2 p.m. ET — ARCA Qualifying
5-5:45 p.m. ET — Budweiser Shootout practice (LIVE on SPEED)
6:30-7:30 p.m. ET — Budweiser Shootout final practice (LIVE on SPEED)
Now we get a real look. Finally, cars hit the track in competitive form. First, ARCA drivers qualify for the race with a field that includes IndyCar driver Milka Duno, NASCAR's Paulie Harraka, Joey Coulter and Max Gresham as well as top talent Max Gresham, Brandon McReynolds and the ever-present veteran James Hylton.
Then it's the Cup drivers' turn. The Shootout field is vast this season, making practices more critical. Changes to the cars, aimed at slowing the two-car tandems and bringing large packs back into the sport, will be showcased here. This is a chance for the best drivers in the sport to try out the changes on the 2.5-mile track. All of the 2011 Chase for the Sprint Cup drivers are in the field, so look for continued competitiveness there.
As with all the Sprint Cup practices this year, FOXSports.com will provide lap-by-lap times of the Shootout practices.
8 p.m. ET — Drawing party for the Budweiser Shootout (Live on SPEED beginning at 8:30 p.m. ET)
Who gets the advantage of starting first? We'll soon know.
Saturday, Feb. 18
10-10:45 a.m. ET — ARCA final practice
11 a.m. - 1 p.m. ET — Daytona 500 practice (LIVE on SPEED)
2-3:45 p.m. ET — Daytona 500 practice (LIVE on SPEED)
4:30 p.m. ET — ARCA Series race (LIVE on SPEED)
8:30 p.m. ET — Green flag for the Budweiser Shootout (LIVE on FOX)
Now we're talking. Actual races on the track!
Two of them, in fact.
The ARCA Series takes to the track first, as a mixture of rookies and veterans try to take the trophy in the season opener. Several NASCAR veterans, and others with aspirations of one day reaching the Sprint Cup Series, have a chance to shine in this tough showdown.
Then the Cup drivers finally race. What will the new style of restrictor-plate racing look like? How will the electronic fuel injection really play out in a race? Which driver/crew chief moves really do look like they'll pay off? And how will changes made to the cars, including the size of the restrictor plate, play out?
Last year, Kurt Busch won this race driving for Penske Racing. Can he repeat the feat this season in his debut with his new team, Phoenix Racing? Or can someone else make the first strike on the field?
Tune in, log on and find out for yourself.
Sunday, Feb. 19
1:05 p.m. ET — Daytona 500 qualifying (LIVE on FOX)
This is it, the time for the front row for the Daytona 500 to be set. While the race itself is long and challenging, taking the pole position can certainly change the nature of the coming week for a driver and his team. Winning the pole brings quite a bit of prestige to a team; taking a front-row spot locks one into the field. That offers the chance to perhaps enjoy the upcoming and unpredictable Gatorade Duels a little more. There's a lot more at stake, though, than those front-row berths. Teams outside the top 35 in owners points will vie for position against one another. Each wants to have the fast speed and be in position to grab a 500 spot, regardless of what happens in the Duels.
Monday and Tuesday, Feb. 20-21
Teams universally get a two-day break from the action as Daytona goes silent in preparation for the upcoming five-day extravaganza of on-track action. Don't think they'll all be idle, though. Some are already planning to add a little extra testing time on those dates.
Wednesday, Feb. 22
Noon to 1:30 p.m. ET — Daytona 500 practice (LIVE on SPEED)
2:30-4 p.m. ET — Daytona 500 practice (LIVE on SPEED)
After the two-day layoff, Sprint Cup teams return to the track to start testing things out for the upcoming Duels.
Qualifying is behind them, so now it's time to really focus on the upcoming slate of races. Drafting practices will show who is planning to work together in the Duels, which drivers seem to have an edge and just how the race could play out.
Thursday, Feb. 23
9-9:45 a.m. ET — Nationwide Series practice
10:15-11:50 a.m. ET — Nationwide Series practice
12:10-1 p.m. ET — Camping World Truck Series practice (LIVE on SPEED)
2 p.m. ET — Sprint Cup Gatorade 150-mile qualifying races (LIVE on FOX)
6:05-7:20 p.m. ET — Camping World Truck Series practice (LIVE on SPEED)
What a schedule today. The Nationwide and Camping World Truck series drivers finally join the fun and get to take to the track for a pair of practices each. The Daytona 500 field will be locked.
And there will be wild moves in the Gatorade Duel qualifying races.
While the top 35 in 2011 owners points are locked into the field, those drivers and teams are still out to prove something. Where will Danica Patrick run in her first Sprint Cup outing? And who else will make it into the field?
Primarily, though, the main question will be how this race will look. With drivers needing to put everything on the line to lock into the 500 field, or to get a strong starting position for it, things could get a little out of hand.
The qualifying races are generally some of the most riveting events of the entire SpeedWeeks. Watch to see how each unfolds this time.
Friday, Feb. 24
11 a.m. — Noon ET — Daytona 500 practice (LIVE on SPEED)
12:30-1:30 p.m. ET — Daytona 500 practice (LIVE on SPEED)
2:05 p.m. ET — Nationwide Series qualifying
4:05 p.m. ET — Camping World Truck Series qualifying (Two laps, all positions)
7:30 p.m. ET — Camping World Truck Series race (LIVE on SPEED)
This is a big day all around. The Nationwide and Truck teams will lock into the field for their races, and the Cup cars will enjoy a couple hours of practice time. The Nationwide and Truck teams do not practice at all, instead just facing the pressure of getting into the race.
And then the Truck drivers take to the track for the initial points race in any of NASCAR's three national touring series. Last year, Michael Waltrip earned an emotional win on the 10th anniversary of the Daytona 500 race weekend in which his then-team owner, Dale Earnhardt, lost his life. This year, a slate of young drivers try to snare the early spotlight in the showdown.
Saturday, Feb. 25
10:30 a.m. - Noon ET — Daytona 500 final practice (LIVE on SPEED)
1:15 p.m. — Nationwide Series race (120 laps, 300 miles)
This is it.
Not only do the Nationwide Series driver take to the track for their season-opening race, but the Cup cars practice for the final time prior to the prestigious Daytona 500.
Some will then walk over to their Nationwide cars for that race as well, though a few of the regular crossover drivers will be focusing more on their Cup endeavors this season. Danica Patrick takes to the track for her first full-season run in NASCAR at a track for which she seems to have a flair. What will this Nationwide race bring?
Sunday, Feb. 26
1 p.m. ET — Running of the 54th Annual Daytona 500 (LIVE on FOX)
Green flag time. After an offseason that ran a week longer than usual — and an offseason filled with driver moves, crew chief moves, sponsor announcements and teams trying to strengthen their effort for 2012 — the racing finally officially begins.
Certainly a team can recover from a setback in this race — after all, many top drivers have been caught up in the so-called Big One, the multi-car crash generally seen in this restrictor-plate showdown — but it's hard to beat the prestige that goes with this win.
Last year, a little-known rookie took the checkered flag — and Trevor Bayne quickly became a household name. He put a legendary team back in Victory Lane for one of the feel-good stories of the season.
Will there be another surprising hotshot this season? Will someone struggling to snap a winless drought do so on NASCAR's biggest stage? Will the winner of this race go on to be champion?
Tune in to see just what happens this year.