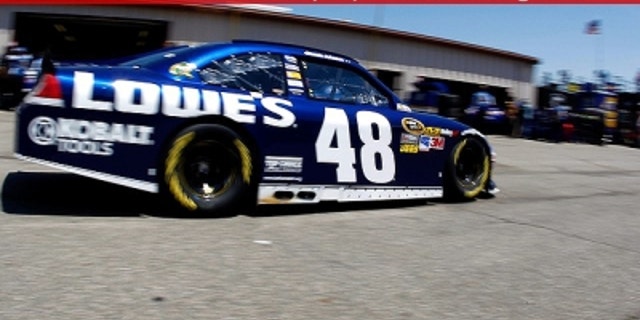 NASCAR CHANGES SIDE SKIRTS AGAIN – Sprint Cup teams will race under new aerodynamic rules when they return to Kentucky Speedway next weekend.
NASCAR has made another change in the cars' side skirts, increasing the clearance from the ground to the skirts for the second time this season. Skirts will be four and one-half inches on the right and five inches on the left.
The intent is to make it easier for drivers to race side by side by taking away downforce.
"I'm not sure it's changed much on track," Jimmie Johnson said. "It's just a tough dynamic to try to make the lead car in clean air to drive as poorly as somebody in dirty air. I appreciate the process. I know we're trying to create better racing, side-by-side racing on the mile-and-a-half tracks, but the aero deal is tough to get around. I don't know what the answer is. I don't feel this is it. I appreciate and respect the effort being made."
At most tracks, the car in front has a decided advantage because the following cars are wrestling with the disturbed air produced by the leader.
"The guy who is leading is in clean air," Johnson said. "Our sport, that's a huge advantage. … In our racing, leading is everything."
STEWART A ROAD WARRIOR – Tony Stewart sits among the favorites every time the Sprint Cup Series rolls into a road-course venue.
There will be no exception this weekend as the series races at Sonoma, Calif., at the facility formerly known as Infineon Raceway.
Stewart has won twice at Sonoma and five times at the Watkins Glen, N.Y., road course.
While the tracks are quite different, Stewart has succeeded in both atmospheres.
"At Watkins Glen, you don't have to finesse the throttle near as much as you do at Sonoma," Stewart said. "When you get the car turned, you can get in the gas and then stay in the gas. Watkins Glen is much faster than Sonoma.
"I think there are the same amounts of passing opportunities, but because of the speeds that you're able to run at the Glen, brakes become a much bigger factor than I think they are at Sonoma. It's pretty much a horsepower track. It just happens to be in the form of a road course. Sonoma has a lot less grip in the race track. You have to really be careful with the throttle there, and that puts more of the race in the driver's hands. If anything, Sonoma is probably more technical than Watkins Glen because there's hardly any time where you get a chance to rest. You're always either shifting or accelerating or braking or turning or doing something."
SMITH GETS SPECIALIZED HELP – The Sonoma road course hasn't been a productive place for driver Regan Smith.
In three races on the course, Smith has finished 30th, 38th and 16th. That explains why Smith and his team called on Colorado driver Rick Carelli for some help entering Sunday's Sprint Cup weekend at the track.
Carelli gave Smith some driving lessons at High Plains Raceway, a road course located in Deer Trail, Colo., east of the Furniture Row team's Denver shop.
Smith tested at the track Tuesday.
"If you don't like road racing, chances are you're not going to do well at it," said Carelli, who joined the NASCAR Camping World Truck Series in its original season in 1995. "But that's not the case with Regan. He is a good student and welcomes the challenge to improve his road-racing skills."
Smith said Sonoma and the road course in Watkins Glen, N.Y., produces "great racing to watch and as exciting as anything we do during the course of the season. Seeing the beating and banging that goes on, and the guys roughing up each other, make for some really good entertainment."
Mike Hembree is NASCAR Editor for SPEED.com and has been covering motorsports for 30 years. He is a six-time winner of the National Motorsports Press Association Writer of the Year Award.