CUP: NASCAR Midweek Notebook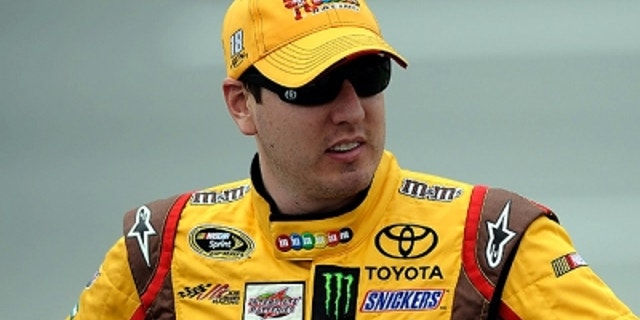 Article by NASCAR Wire Service
BUSCH SEEKS END TO BLUES — There's been no shortage of blue Sundays in recent weeks for Kyle Busch. After three straight weeks of his No. 18 Joe Gibbs Racing team enduring uncharacteristic motor gremlins, Busch was poised for a rebound last weekend at Sonoma ... until a late-race spin ruined his chances.
Burdened by a four-race skid, Busch hopes to shake the blues in the Bluegrass State when the NASCAR Sprint Cup Series returns to Kentucky Speedway for Saturday night's Quaker State 400. The event kicks off the Race to the Chase, the final 10-race stretch of the regular season and the last chance for drivers to seal their eligibility for the Sprint Cup title.
Busch dominated last year's inaugural event at the 1.5-mile track, leading 125 of 267 laps in winning from the pole position. He also has one Kentucky win in both the NASCAR Nationwide Series and NASCAR Camping World Truck Series.
Despite his past glories in all three series, Busch knows he has just one shot at Kentucky's lone race on the Sprint Cup schedule to better his Chase hopes.
"I think it makes it more challenging," Busch said. "You've definitely got to go through your notes and find the things that made you good there and watch the film -- no different than a football player studying film to see what he can do to be better. For me, you do some of those same things."
The urgency for Busch to perform has grown with his recent slide. After scoring his only Sprint Cup victory of the season so far at Richmond in April, Busch went on a tear in May -- second place at Talladega, fourth at Darlington, third at Charlotte -- that moved him to eighth in the series standings.
Since then, his once-solid grasp on a berth in the Chase for the NASCAR Sprint Cup postseason hunt has been clouded in engine smoke. Three consecutive mechanical failures, topped by his Sonoma spin, have bumped Busch to 12th in the points and left him clinging to a wild-card berth. Busch is 31 points behind 10th-place Brad Keselowski -- the top 10 drivers plus the two wild-cards (drivers in positions 11th to 20th with the most wins) will be eligible for the 10-race championship fight.
To put his bid for a Chase spot on ice, Busch will have to buck a recent trend of parity. This season's 16 Sprint Cup races have 12 different winners, and the last three events have gone to first-time winners in 2012.
Matt Kenseth, who made public Tuesday his plans to leave Roush Fenway Racing at the end of the season, still leads the NASCAR Sprint Cup Series standings, sitting 11 points ahead of teammate Greg Biffle. Dale Earnhardt Jr., the winner two weeks ago at Michigan, is third, just 14 points off the top spot.
JOLO READY TO ROLL — Joey Logano has been a pre-race favorite in nearly every NASCAR Nationwide Series event he's entered this season. So far, he's been able to cash in with four wins in the last five Nationwide races on his partial schedule.
Logano's rivals may have a heavier challenge this week when the series returns to Kentucky Speedway for Friday night's Feed the Children 300 primarily because Kentucky is his best track.
Logano notched his first Nationwide victory at the Sparta, Ky., track in 2008, then won in his next two trips to the 1.5-mile track. He also has three pole positions, giving him an average start of 1.8 to go with his stellar average finish of 3.2.
"Ever since I ran my first Nationwide race there back in 2008, I've just had a pretty good knack for Kentucky," Logano said. "Then when the Sprint Cup Series finally came to the track last year, I thought we'd have a pretty good showing considering our track record there, and we ran decent and finished in the top 15. But I'm really looking for bigger and better things this time around."
Elliott Sadler retained his Nationwide Series points lead despite a 15th-place finish last week at Road America. He came home fifth last season at Kentucky after winning the pole position in his first Nationwide start there.
Top rookie Austin Dillon, Sadler's Richard Childress Racing teammate, remained second in the standings -- 11 points off the top spot. Defending series champion Ricky Stenhouse Jr., tapped Tuesday by Roush Fenway Racing to move up to the NASCAR Sprint Cup Series, sits 23 points behind Sadler in third place.
PIQUET BACK TRUCKING — Nelson Piquet Jr. returns to his day job in the NASCAR Camping World Truck Series this week. Now he hopes the moonlighting stint he took last weekend is worthy of an encore.
Piquet and the rest of the truck series regulars return after a three-week layoff for Thursday night's UNOH 225 (8 p.m. ET, SPEED) at Kentucky Speedway. The former Formula One driver had a memorable break from the truck tour, prevailing in Nationwide competition at Road America to become the first Brazilian to win a NASCAR national series event.
Piquet has shown steady improvement in his second full season in trucks, ranking sixth in the series standings and capturing his first pole position earlier this year at Rockingham. While his road-course win last weekend was a confidence builder, Piquet is ready to take the next step on an oval track.
"We won the Elkhart Lake race, but I'm still looking for that win in the truck series," Piquet said. "And obviously this year, fighting for the championship, I think winning a race is going to make a big difference already. But the goal this year will be fighting for the championship. I think if we win this championship, that obviously is going to mean a lot to me and to a lot of people."
A Kentucky win by Piquet would continue a trend of new faces in Victory Lane. The truck tour has seven different winners in its first seven races, a series record.
Justin Lofton holds a slim lead in the series standings, but two drivers looking to make the truck series 8-for-8 in unique winners this year are in close company behind him. Timothy Peters sits five points behind Lofton, and top rookie Ty Dillon is 12 points back in third.
If Peters is extra-optimistic, it's because offseason changes at Red Horse Racing have focused on raising performance on intermediate-size tracks such as Kentucky.
"I think we have exceeded our 1.5-mile program this year compared to last year," Peters said. "Every time we race at one of the tracks, we keep getting better. I'm really looking forward to these tracks. As a company, we have won at every track at other sizes except a 1.5-mile, and I think this year we are going to do it."