CUP: MWR Leaps Into Mainstream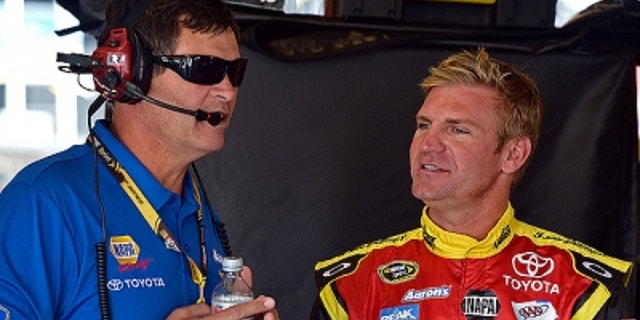 Not even on a day when his sometimes goofy persona might have led him on a wild run of optimism and enthusiasm could Michael Waltrip have predicted what his Sprint Cup organization would accomplish in 2012.
The numbers wound up being much bigger than Waltrip and his front-office people might have imagined.
MWR put two drivers – Clint Bowyer and Martin Truex Jr., its only full-time drivers – in the Chase. Only one team – Hendrick Motorsports with four – had more. In Chase participation numbers, MWR outperformed Joe Gibbs Racing, Richard Childress Racing, Stewart-Haas Racing and Penske Racing and tied series giant Roush Fenway Racing.
And that was only the beginning.
Bowyer, who admitted that he didn't have a really good idea what to expect when he left RCR to join Waltrip for the beginning of this season, wound up with a sensational year. Unexpectedly, he finished second to series champion Brad Keselowski, and, without his flareup with Jeff Gordon at Phoenix in the next-to-last race of the season, would have had a shot – albeit a slim one – at the championship in the final race at Homestead-Miami Speedway.
Bowyer won at Sonoma (a real surprise) and Richmond and then at Charlotte in the Chase, and his Chase report card also included a second, a fourth, a fifth and a pair of sixths.
Bowyer finished the season with 23 top 10s, matching Keselowski in that important consistency category.
Truex didn't have a spectacular Chase, finishing 11th in the standings, but he also had a consistent year, finishing with 19 top 10s and failing to make the Chase top 10 by only four points.
And the MWR fun didn't stop there. The team's third car, driven mostly by Mark Martin but also in the hands of Brian Vickers and Waltrip for selected races, finished an impressive 15th in owner points despite the team having to work with and adjust to a carousel of drivers.
All in all, not bad for a team that just a few years ago was teetering on the edge of financial collapse.
Chances are expectations will be significantly greater – both inside and outside MWR – for the team in 2013.
"Just a great year – super-excited about how far we've come in a short amount of time," Bowyer said. "My first year with MWR with this 5‑hour Energy Toyota. Just want to say thank you to (crew chief) Brian Pattie, everybody on the No. 15 5‑hour Energy Toyota. They've done a great job. We've learned a lot about each other, and I think we're going to be even better next year."
After qualifying for the Chase, Bowyer set a goal of finishing in the top five. He ran well past that target in passing Jimmie Johnson for second place in the Homestead finale.
"When we made the Chase, my realistic goal was to be in the top five," Bowyer said. "I thought that was a reachable goal for our race team the way we had been running leading into the Chase. And, to be able to exceed that, I mean, we had a shot at it until last week [at Phoenix]. You just can't ask for more than that out of a brand‑new group like that. Just very proud of all their efforts."
Mike Hembree is NASCAR Editor for SPEED.com and has been covering motorsports for 30 years. He is a six-time winner of the National Motorsports Press Association Writer of the Year Award.