CUP: Montoya's Victory Shot Vanishes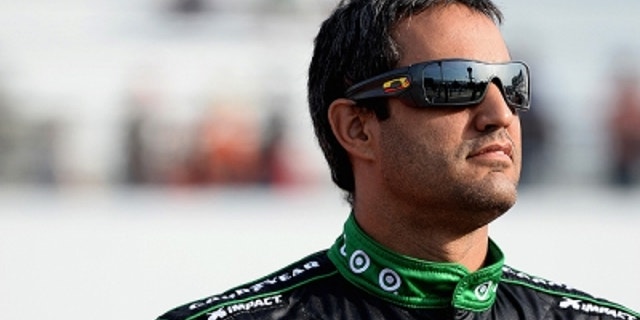 RESULTS
Toyota Owners 400 at RIR
This time, it looked like nothing could go wrong for Juan Pablo Montoya.
He led 67 straight laps in the closing miles of Saturday night's Toyota Owners 400 and was only three miles from the victory when the thing that could go wrong did. Brian Vickers crashed in the third turn four laps from the finish, causing a caution flag and wiping out Montoya's slim but sturdy lead over Kevin Harvick.
Harvick was gaining on Montoya as they raced under green while preparing for the finish, but it appeared that Montoya had enough left to hold off Harvick for what would have been the former Formula One winner's first Sprint Cup oval-track victory.
After Vickers' crash, the race turned crazy. Although it immediately became clear that the race would go overtime because of the severity of Vickers' wreck, Montoya, Harvick and several other leaders pitted for fresh tires.
Jeff Burton and Jamie McMurray stayed on the track and assumed the top two spots, but they were easy targets when the green fell, as Harvick sprinted to the inside and took the lead on the first of the final two laps. Montoya also advanced, moving from sixth to fourth, but couldn't challenge again for the top spot.
"I feel bad for Juan," said Clint Bowyer, who survived the chaos of the final laps to finish second. "He's struggled. He drove his ass off. That was his race. It was unfortunate. I've seen it happen to Truex (Martin Truex Jr.), my teammate, a few times. When you see a guy get beat up, if you don't have a shot at it you'd just as soon see a guy who hadn't won a long time get it."
Montoya was disappointed but philosophical after the race.
"We had a great car," he said. "Same as last week – we had a great car. The pit crew redeemed themselves tonight. They did a great job all day, no mistakes. That is what we needed. … It is the luck of the draw. We restarted on the outside, and we were screwed.
"We got that caution at the end. and it was a no-brainer to take tires. And I think what hurt us is we restarted on the outside. and when you restart on the outside and people got really bad tires, everything packs up. And when you're on the outside, you can't – you know, where are you going to jump?
"When you are on the inside, you can just jump to the guys. And when Harvick went by, I tried to get to the bottom and then the No. 22 (Joey Logano) was there, and I said we've just got to get a (good) finish. Remember, before this we had six really bad weeks."
The fourth-place finish lifted Montoya from 27th to 24th in points.
Mike Hembree is NASCAR Editor for SPEED.com and has been covering motorsports for 31 years. He is a six-time winner of the National Motorsports Press Association Writer of the Year Award.