CUP: Montoya Ready To Roll With Changes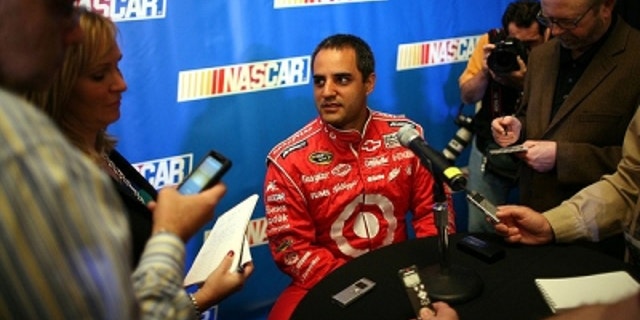 Five years into his Sprint Cup career, Juan Pablo Montoya is nowhere near where projections might have placed him when he gave up a Formula One seat to move to NASCAR late in 2006.
He has a pair of road-course wins and made a Chase run in 2009, but otherwise the results have been mostly of the yawn variety. Last year, which theoretically should have been Montoya's best season in NASCAR, he faltered and sputtered and wound up with a year that team owner Chip Ganassi, talking about his overall operation, described as "just pathetic."
Surveying the new season Thursday at Daytona Media Day before a gathering of reporters, Montoya wasted no time in agreeing with Ganassi's assessment.
"If any of you think as a team that we performed last year, you shouldn't be a reporter," he said. "You shouldn't be involved in this sport. It was bad. It was a really bad year for us.
"When we had an 'A' day, we would finish eighth or something. That's crazy. A team of the caliber of Chip Ganassi Racing, you can't run like that. Chip realized that. That's why so many changes were made."
In the off-season, Ganassi did a housecleaning. Gone are long-time NASCAR garage residents Steve Hmiel and Tony Glover. New are team manager Max Jones and technical director John Probst. And Montoya has a new crew chief in Chris Heroy.
"It was hard," Montoya said. "Why do you think Chip made all those changes? He knows where the team is.
"We need faster race cars. I think our cars were so far behind last year it was hard to perform. It doesn't matter who you put in the car when the car doesn't perform. It was a frustrating year, but, in a way, it was good because a lot of changes were needed. Chip really got into making sure we have the best we can.
"Are two months enough to get everybody in place and get the cars where they need to be? I'm not 100 percent sure. But I think we've put the right people in the right places, and things will get a lot better."
An Indianapolis 500 winner. A CART champion. A Formula One force. It's past time for Montoya to cash his check in NASCAR.
Perhaps this could be the watershed year.
Mike Hembree is NASCAR Editor for SPEED.com and has been covering motorsports for 30 years. He is a six-time winner of the National Motorsports Press Association Writer of the Year Award.