CUP: Monster Mile Gets Toyotas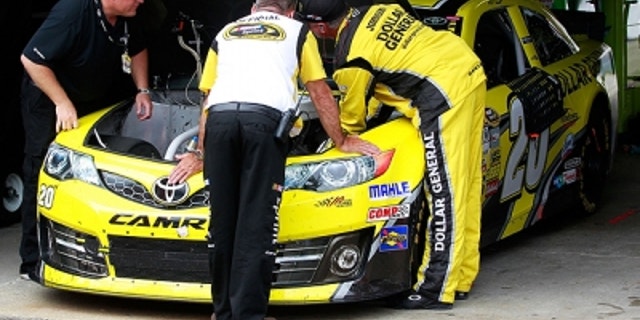 NEWYou can now listen to Fox News articles!
The Monster Mile lived up to its name as several premier Toyota racers experienced difficulties in Sunday's NASCAR Sprint Cup FedEx 400.
Matt Kenseth had a dominant run going at Dover International Speedway and was leading in the race when he started smelling smoke on Lap 156. Three laps later he was in the garage with valve-train issues.
"Something broke in the engine," Kenseth said after finishing 40th. "Man, it's disappointing. I mean I feel like JGR (Joe Gibbs Racing) has three of the strongest teams in the garage. It seems like we got the best cars out there — or equal to the best cars. But, you know you have to finish these things.
"Obviously, there's been some issues in that department. Got a lot of faith in them guys. They'll get it figured out. . . . Pretty disappointed to be standing here."
Kenseth's second engine failure of the year knocked him from third to fourth in the standings. He now trails leader Jimmie Johnson by 74 points.
But Kenseth wasn't the only Camry driver affected by engine issues. Martin Truex Jr.'s Toyota Racing Development (TRD) power plant expired 120 laps later. Truex, a New Jersey native who considers Dover his home track, qualified second and ran among the top five for most of the race before his engine failed.
"Something let go in the motor," Truex said. "Just dropped a cylinder and started smoking all at once. Same thing happened to the 20 (of Kenseth) it looked like. Obviously, we both (have) the same engine manufacturer. Pretty disappointing.
"We had a great race car today. The NAPA Toyota was really good. We were one or two adjustments away there from having something for them. We were really good on long runs. Little too tight on the short runs. Damn, I wish we could have made it to the end."
Truex was scored 38th. His first DNF (did not finish) of the season knocked the Michael Waltrip racer from ninth to 14th in the standings.
Toyota drivers weren't through suffering setbacks, though, as polesitter Denny Hamlin slammed the Turn 1 wall on Lap 377 after having a right front tire fail.
"I'm all right," Hamlin said on the radio, hoping to soldier on. "Still have brakes and the wheel is fairly straight."
Hamlin had led 41 laps and was running in the top 10 at the time of the accident. He appeared destined to continue his solid comeback since returning from a March 24 crash, but after attempting to make repairs on pit road crew chief Darian Grubb discovered a broken control arm. Hamlin nursed his car around the track again, but Grubb insisted he take the car to the garage.
Hamlin appeared devastated by his 34th-place finish and elected not to comment after the race.
In the opening laps of the race, five Toyotas led the field. After 400 miles, only Kyle Busch (fourth), Clint Bowyer (sixth) and Mark Martin (ninth) remained in the top 10.
Kenseth is pragmatic enough to understand that at times racers sacrifice results for speed, but he also values the ability to remain consistent.
"We don't have a lot of control over it," Kenseth added. "We need it to get fixed and there's just only so much we can do. I know TRD (Toyota Racing Development) is working really hard on it and I'm sure they're going to get it fixed, but we need to get it fixed soon."
"I had great cars all year, I really feel like JGR (Joe Gibbs Racing) has three of the strongest race teams and the best cars in the garage. You have to be able to finish these races to win and you have to be able to finish races to try to win championships. Hopefully, we'll have it all figured out before September."