CUP: Mike Ford Joins Almirola Team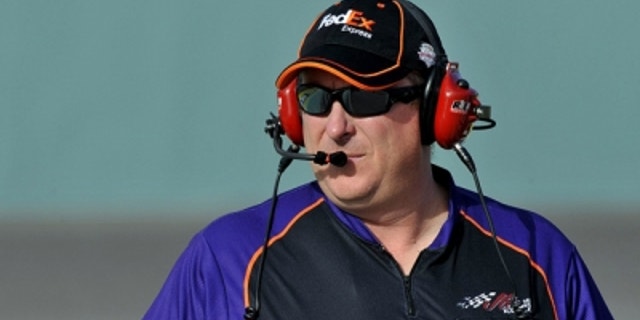 Mike Ford is back.
Richard Petty Motorsports announced Monday that it has hired Ford, released last year as crew chief for Denny Hamlin, to be the pit boss for driver Aric Almirola.
Ford replaces Greg Erwin and will work his first race with Almirola this weekend at Talladega Superspeedway in Alabama.
Ford and Hamlin had considerable success in their years together at Joe Gibbs Racing, but JGR decided to move in another direction after last season. Darian Grubb replaced Ford on Hamlin's team.
In six years with JGR, Ford, 42, totaled 17 wins and led the No. 11 team into the Chase for the Sprint Cup each season.
"Mike Ford is an elite crew chief who knows what it takes to be a winner at this level," said team owner Richard Petty. "We're fortunate that he was available and that we could reach a deal to bring him over to our place. We've taken a lot of big steps at Richard Petty Motorsports in the past year, and I think this might be that one piece of the puzzle we were missing."
Nine races into the season, Almirola is 24th in points and has only one top-10 finish.
"I can't wait to start working with Mike," Almirola said. "Everyone in the garage respects him and knows what he's capable of. It's a goal of the 43 team to make the Chase this year, and I think Mike's experience and knowledge can help get us there. We've got some ground to make up, but I think we can do it."
Ford is also looking forward to join forces with Petty and Almirola.
"Richard Petty Motorsports has proven to be a winning organization with the potential to be a Chase contender," Ford said.
Mike Hembree is NASCAR Editor for SPEED.com and has been covering motorsports for 30 years. He is a six-time winner of the National Motorsports Press Association Writer of the Year Award.