CUP: Michigan Tests Produce Big Speed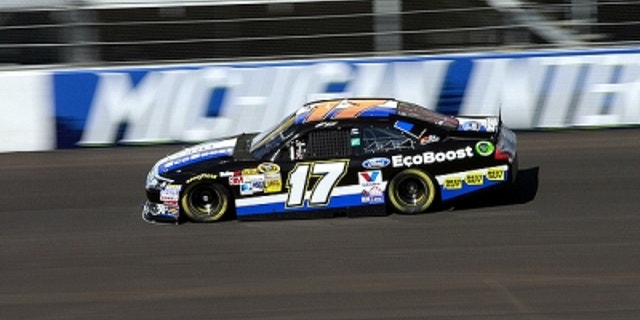 There's fast, and then there's FAST.
FAST is likely to be the operative term when Sprint Cup teams report to Michigan International Speedway in mid-June for the first race of the season at the recently repaved two-mile track in the Irish Hills.
Five drivers ran hundreds of test laps for Goodyear tire engineers at MIS Tuesday and Wednesday. Their straightaway speeds topped 215 miles per hour.
Although the tire development process between now and June – and other factors, including weather – could have an impact on speeds, it's likely that Ryan Newman's track record of 194.232 mph (set in 2005) will be broken during the Michigan 400 weekend.
Drivers typically don't like track repaves. They prefer aged surfaces that put more control in the hands of the driver. Repaves and the generally faster speeds that come with them are inevitable, however, and there is always something of a sense of mystery about how the first race on the new surface will develop.
"Whenever you repave a track or drastically make a change of the nature of a repave, it's going to change the racing and how it works," said Brad Keselowski, one of the drivers participating in the tests. "You know, the question is, is it going to be better? Is it going to be worse? Is it going to be this or is it going to be that? You know, time will tell.
"I think the track has a lot of key events that will probably indicate how the Cup race will go. The Cup race is obviously the Granddaddy race for this race track. There is a Nationwide event and an ARCA event beforehand. I think that will probably provide the biggest indicator of the quality of racing that we will see come Sunday in June, but I feel pretty good about it."
Keselowski said the repave's seasoning – it was completed in November – is a plus.
"One of the key things that I see about the track is the decision to repave it in October versus waiting until this season," he said. "It has given the track extra time to cure, which I think is going to speed up the process of getting the track to be very racy. And, with those events beforehand, there's a very good chance that we could step into the first weekend with the repave here again in June and see racing just as good if not better. I'm more than optimistic of how the quality of racing is going to be and feel pretty good about it."
MIS was built in 1968. It also was repaved in 1977, 1986 and 1995.
Jeff Gordon said the repaving project was well done.
"I am not a big fan of repaves, so the fact that I am talking positive about it and still enjoying the race track as much as I always have I think that is a sign where I rank it. I rank it very high," Gordon said.
"Whatever it is about this track, it has just always had a great feel to it. Instead of having to go in and recreate some of that like some tracks have had to do, they were basically able to pave over the top of what they had, fix whatever they could to keep it lasting as long as possible, which you would typically do on a repave.
"The track drives so similar to the way it did before, and it is going to have multiple groves."
Mike Hembree is NASCAR Editor for SPEED.com and has been covering motorsports for 30 years. He is a six-time winner of the National Motorsports Press Association Writer of the Year Award.