CUP: Martinsville – A Track Apart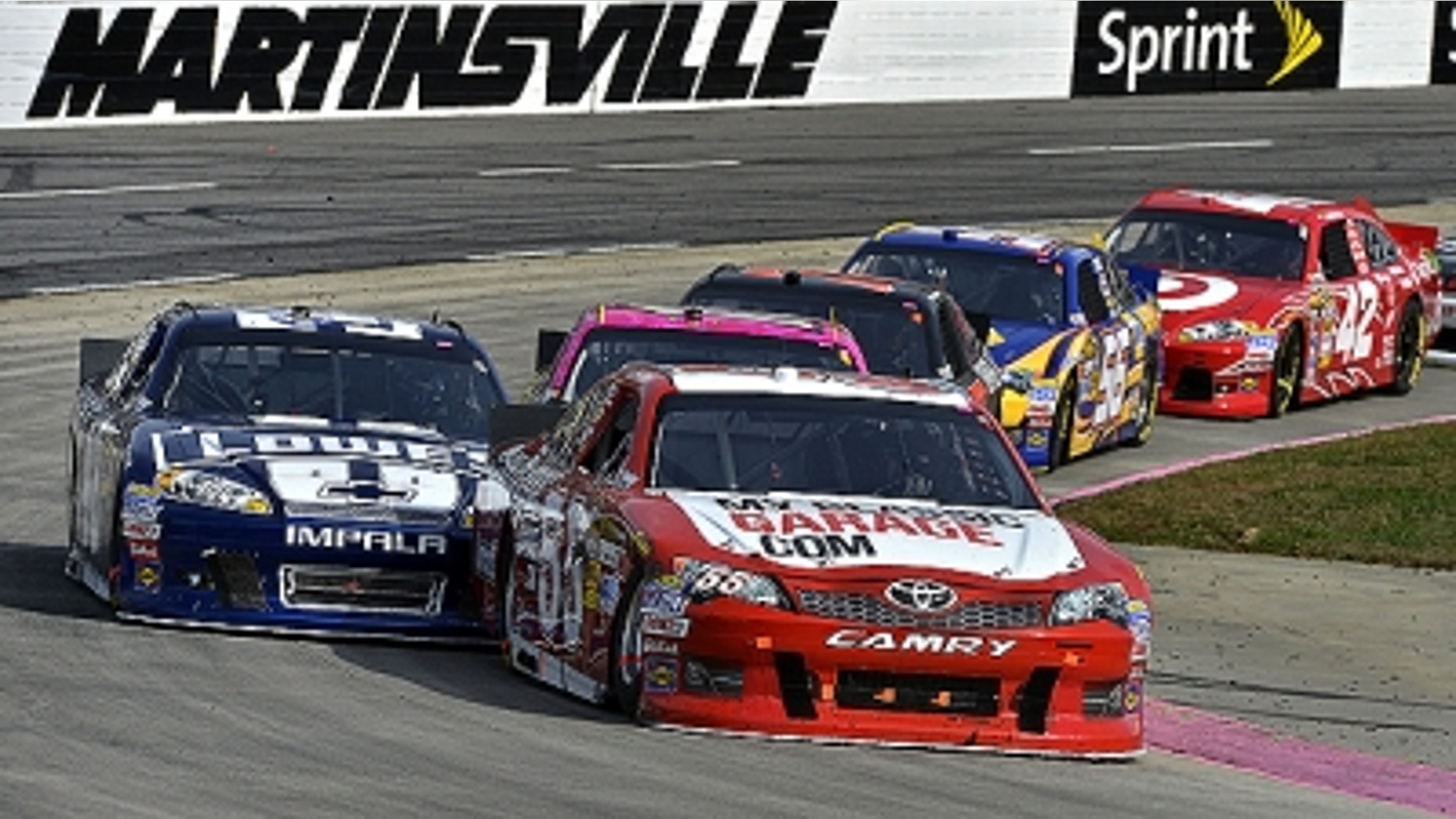 Martinsville Speedway is the shortest (.526 of a mile) and perhaps should be the simplest track on the Sprint Cup circuit.
It's similar to the bullrings many drivers toured for thousands of laps as their careers accelerated. But the paperclip-shaped track has confused and confounded many drivers. Some take years to figure it out, and some never do.
Ten active Cup drivers have scored multiple wins at Martinsville, but all ran at least two races at the track before conquering it.
Tony Stewart, three times a winner at the track, rolled into Martinsville for the first time in 1999.
"I looked at it and thought, 'I can't believe they race stock cars here,'" Stewart said. "It's what I was used to from a Sprint Car and Midget standpoint. I had seen it on TV, but the first time you're here, you think, 'This is really small,' and you realize how close quarters it is.
"Back then, the noses on the cars were slanted and the rear bumpers were really high, and if you touched somebody you turned them around easily. Now, our bumpers match up better. You don't wreck somebody right off the bat. But if you hit them enough, you will."
Although Dale Earnhardt Jr. has run well at Martinsville, he's still looking for his first win there.
"You would think that it fits right in your wheelhouse because of the style of track it is and the type of racing you do," he said. "I remember the first several races I ran there, I ran into everything. I ran into other race cars, walls, pace cars, just about everything that could be run into, I found it. And, you know, it was real frustrating because I had thought of myself as a short track driver, and I thought that I had honed these skills on these short tracks in the Southeast, and this should be where I excel the most.
"But … short track racing can really allow you to get carried away with yourself, and you forget – even now, even last year, we would run 100 laps and I'd have the car torn all to hell down both sides and have to remind myself this is a longer event than you realize, and you've really got to preach patience to yourself and really rein in your emotions and your excitement because you just really want to get in there and gouge every corner, but there's just not enough race car to do that for 500 miles."
Patience is a virtue – and a requirement at Martinsville, Earnhardt Jr. said.
"It took me a few trips to really learn to be more patient, to let the race sort of come to me, that the track is going to come and go, the balance of the car is going to change, that you don't do all your work in the first 100 laps, and you've sort of got to wait out the competition and let your crew make good choices and good strategy that keeps you in the thick of things and then have an opportunity at the end," he said.
"It just took a really – it took a while for me, it seems like a while, anyway, to really understand that. Now I do feel like I do do well on the short tracks because it takes a totally different mentality than what you think coming in, even though you might be coming from the short track ranks."
Stewart said the 66-year-old track retains its personality.
"I don't care how old it gets or how far down the road it gets, it's not going to be a track that I ever see leaving the schedule," he said. "It's got too much history, too much personality, and that's what you see a lack of in some of these 2-mile and 1.5-mile tracks. At those places, you're going to get strung out. You're going to get away from people.
"But the fans really like to see us on top of each other. That's what ensures the longevity of Martinsville – the action they're going to see."
Mike Hembree is NASCAR Editor for SPEED.com and has been covering motorsports for 31 years. He is a six-time winner of the National Motorsports Press Association Writer of the Year Award.