CUP: Martin Tweets His Way To Fontana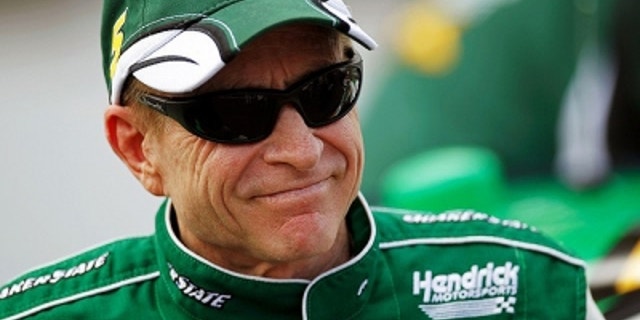 Mark Martin will be adopting a new identity this weekend. Well, sort of.
As he prepares to return to the No. 55 Michael Waltrip Racing Toyota for the NASCAR Sprint Cup Auto Club 400, Martin will be carrying a reminder of his recent off weekend. Brian Vickers, who is sharing the ride with Martin, drove the entry at Bristol Motor Speedway last weekend. Martin, meanwhile, was wrestling for control of his own Twitter account.
Martin's 60,000-follower Twitter account (@55markmartin) was hacked early Saturday morning, according to a team release, rendering him incapable of enjoying his newest hobby. An unknown culprit, who renamed the account Epic Swag, took over the account and started changing settings and altering followers.
Martin was helpless to interfere.
"I felt naked," he said. "I was locked out of my own account. I'd built my followers up and was scared I was going to lose all of it to this guy. I was mad at him, mad at myself, and really ticked off."
Twitter restored Martin's account Saturday afternoon and handed back control to Martin. He has become active in the arena.
"It's such a cool link to my fans, and I really didn't want to give it up, so I'm thrilled I got it back," Martin said. "You see those commercials about people getting hacked, and you really don't think much of it, but when it happens to you it's big. Real big."
Now, in the Auto Club 400, Martin will carry a reminder of the incident.
"Epic Swag stole my name last Saturday, so this weekend I'm stealing his," Martin said. "We'll run Epic Swag above the driver's window where my name is usually. What do they say? 'Turnabout is fair play.' "
Car owner Michael Waltrip supported the idea.
"Mark Martin has done a great job and Brian Vickers had a great day at Bristol, so this weekend we're trying out Epic Swag in the Aaron's Dream Machine," Waltrip said. "Some people call him a hack, but I'm willing to give him a second chance."