CUP: Martin Rides Again – And Again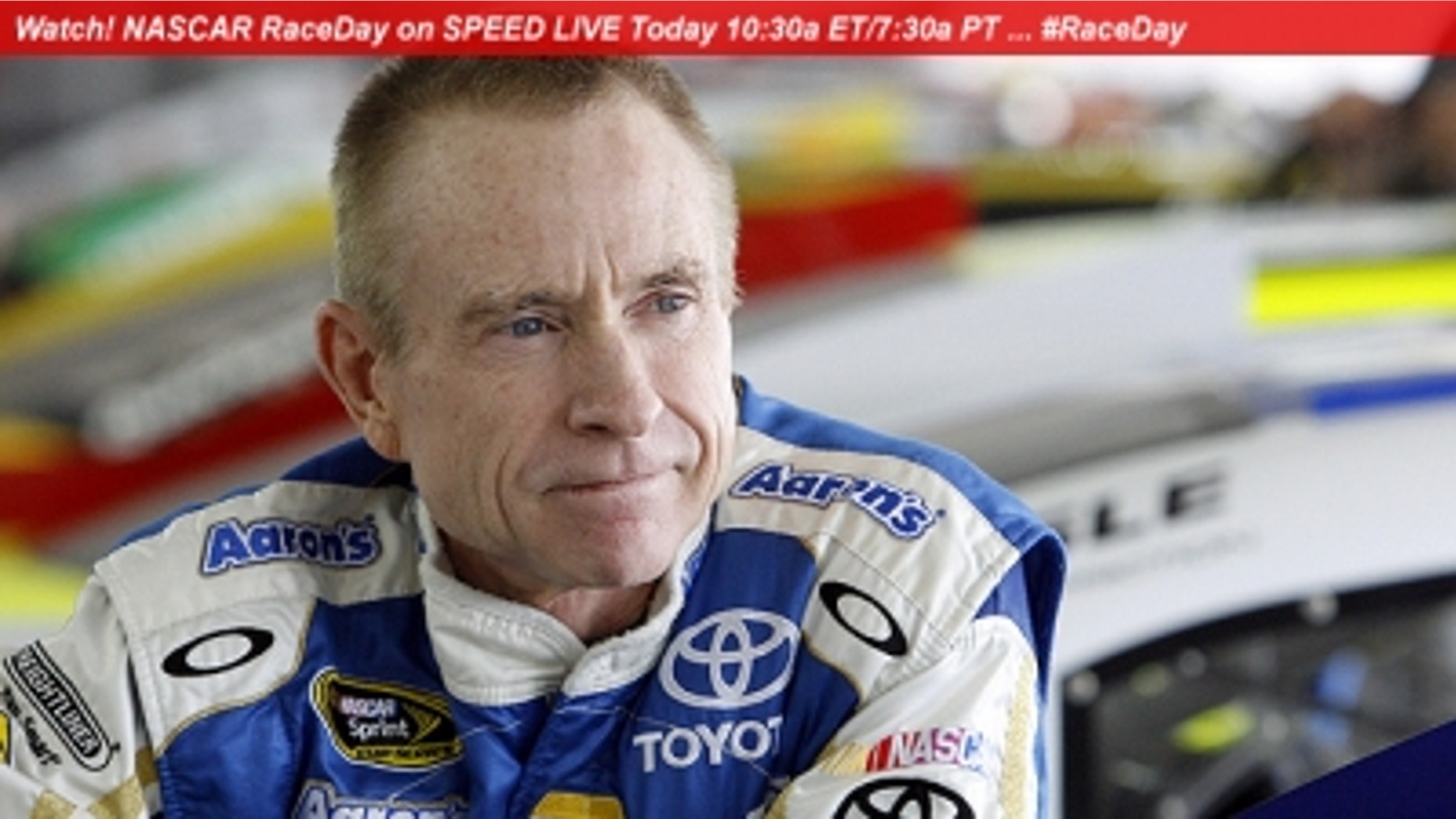 Mark Martin hasn't won a Sprint Cup race since September 2009.
It almost doesn't matter.
Just having Martin around these days makes any race day a better one and adds a touch of class to any race field.
He is 53 now – almost halfway to 54. He has a cut body that would put some professional bodybuilders to shame. He could star in one of those "sports bodies" issues magazines occasionally like to put together.
He is a middle-aged man racing in a young man's body – entirely against the wind.
Martin is running a part-time schedule this year and – presumably – will do the same next year. After that? No one – probably not the man himself – knows for sure.
To imagine that there eventually will be a Sprint Cup season without him is to question all reasonable calendars.
On Sunday, Martin gets another shot at scoring what would be his 41st Sprint Cup victory – and it could be a good shot, indeed. He won the pole for the race Saturday with a speed of 158.297 miles per hour, a sizzling run around Dover International Speedway, a track where the high-banked layout challenges even the best drivers – and confuses some of them.
Martin cut the best lap Saturday ahead of Jimmie Johnson, probably considered the circuit's big gun of the moment, and Ryan Newman, a qualifying expert who has run enough spot-on laps to own 49 poles.
Martin will start first Sunday (green flag, 1 p.m. ET on FOX) for the 54th time in his 30-year career at a track where he has won four times, finished second a remarkable eight times and finished in the top five 23 times (a record).
He won't be considered among the five or six favorites Sunday, but very few will be surprised if he happens to pop into victory lane.
"We will put our heads together and come up with what we're going to put in the car for tomorrow because we never really hit the nail on the head yesterday [in Friday practice]," Martin said. "Although we were good, I didn't feel like we hit the nail on the head. We continue to work together collectively to try to find exactly what that needs to be for me to have 400 or 500 miles worth of good, solid, consistent speed – enough to really be able to win.
"We really had a good run in Texas (finished third). That seems to be one time. Some of the next races that we've run, we haven't been able to hit the nail quite on the head. We'll continue to work collectively. I'm learning, and they're learning about me, and I'm learning about them and I'm learning the cars. I'm having a blast."
A tough, gritty track like Dover would seem to fit Martin well. In fact, he scored his first Nationwide Series win at the track in 1987.
"This place has always been awesome for me to race on, and, although we've only won four Cup races here, we could have, should have many, many others, as well," Martin said. "I had an epic battle with Dale Earnhardt Sr. here in 1989 … where we raced side-by-side lap after lap, and I came up short."
Mike Hembree is NASCAR Editor for SPEED.com and has been covering motorsports for 30 years. He is a six-time winner of the National Motorsports Press Association Writer of the Year Award.