CUP: Martin Claims Richmond Pole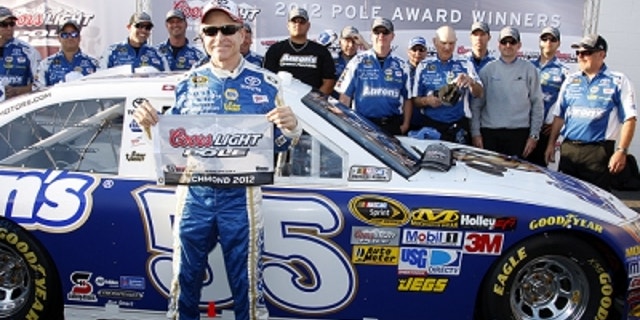 Ageless Mark Martin won the pole for Saturday night's Capital City 400 at Richmond International Raceway.
Martin, the 53-year-old from Batesville, Ark., was the last of 45 drivers to go out in the session, and he claimed the pole by running 128.327 miles per hour in the No. 55 Michael Waltrip Racing Toyota. In seven attempts this season, Martin's average start has been 7.0.
"Not many 53-year-old race-car drivers are still living the dream," said Martin.
The pole was the second of the year for Martin and the 53rd of his career in 837 NASCAR Sprint Cup starts. His first pole came at Nashville Fairgrounds in 1981, before 11 drivers in tomorrow night's race were even born.
"Thirty-one years ago, I brought my little short-track car with me to my fourth Cup race and it was a pretty neat deal sitting on the pole with my late-model team," said Martin. "But as far as I'm concerned, this is just as big a deal."
Carl Edwards had a best lap of 128.290 mph, good enough to take the outside pole in his No. 99 Roush Fenway Ford Mustang.
"We haven't been very good in qualifying for about the last month and Jack (Roush, team founder and co-owner) said he has quit giving me advice because he thought that was part of it," said Edwards. "But he hasn't said anything in about a month, and I asked if he had any advice and he said, 'No sir, I am not saying anything.' But he is happy. We are happy. ... We have a better race trim package than we do a qualifying trim package so I am excited about that."
Kevin Harvick, who qualified on the pole for Friday night's NASCAR Nationwide Series race, qualified on the inside of Row 2 at 128.041 mph in the No. 29 Richard Childress Racing Chevrolet. Then it was last week's polesitter, AJ Allmendinger, going 127.962 mph in the No. 22 Penske Racing Dodge.
Row 3 will be Kyle Busch and Jeff Gordon, followed by Denny Hamlin, Martin Truex Jr., Kasey Kahne and Dale Earnhardt Jr. Surprisingly, five-time Sprint Cup champion Jimmie Johnson and Greg Biffle qualified 27th and 28th, respectively.
With eight of 26 races in NASCAR's regular season already in the books, Biffle comes into tomorrow night's race leading the points, followed by Truex (-15), Matt Kenseth (-17) and Earnhardt Jr. (-21).
Tom Jensen is the Editor in Chief of SPEED.com, Senior NASCAR Editor at RACER and a contributing Editor for TruckSeries.com. You can follow him online at twitter.com/tomjensen100.