CUP: Mark Martin Subbing For Hamlin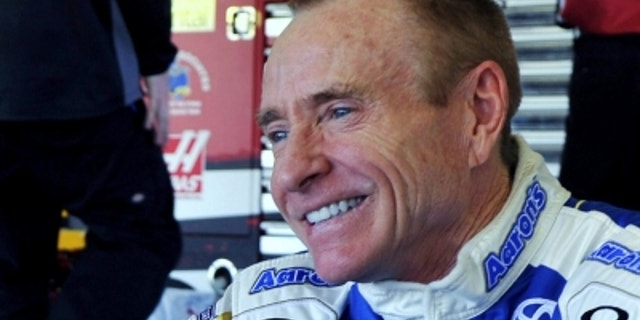 Ageless NASCAR veteran Mark Martin will fill in for Denny Hamlin behind the wheel of the No. 11 Joe Gibbs Racing Toyota as Hamlin recuperates from a broken vertebra suffered last Sunday at Auto Club Speedway.
Hamlin is expected to be sidelined for five races following his last-lap crash Sunday. That number could change based on how Hamlin's recuperation goes.
Joe Gibbs Racing made the Martin announcement Thursday night just hours after a press conference in which team president J.D. Gibbs said no decision had been made on Hamlin's replacement.
"We're kind of going through all the possible options," Gibbs said during a Thursday morning press conference. "Thankfully, we have a week off to kind of get that all planned. It's a lot to go through – the seats, who is it, how many races."
Gibbs was noncommittal about Hamlin's replacement Thursday morning.
"We can't say anything for sure," he said. "We've been doing this for 22 years. It's the first time we've had to talk about this. We've had a lot of guys call us. I think the key is getting that right person in the car and still keeping yourself alive (in the point race)."
By Thursday night, the team had changed its tune.
"We've been real fortunate to have never been in this situation with the need to find someone to fill in for an injured driver," said Gibbs in a press release issued by the team. "A lot goes into a decision like this but we are really pleased to have someone of the character and caliber of Mark Martin to fill in while Denny is out. Obviously we're not exactly sure how long that is going to take, but Mark's career speaks for itself and our team knows it will have the opportunity to compete for a win every week."
Martin, 54, has made 858 starts in the Sprint Cup Series and compiled 40 wins, 271 top-five and 449 top-ten finishes. Five times, Martin has finished runner-up in the NASCAR Sprint Cup points standings and has 56 poles at the Cup level. He also has 49 career wins in the NASCAR Nationwide Series.
"I'm happy to have this opportunity to help out JGR, FedEx and Denny," Martin isaid n the JGR statement. "Hopefully, I can keep those guys up front and compete for wins while Denny heals up."
In 48 career starts at Martinsville Speedway, Martin has earned two wins, 12 top-five and 25 top-10 finishes along with two poles. He has a career average finish of 13.3 at Martinsville.
Hamlin said in the Gibbs press release: "I just hate not being able to be in the car right now, but I really appreciate Mark being able to fill in for me. Like everyone in NASCAR, I have a tremendous amount of respect for Mark and I know he will keep that FedEx Camry up front until I get back behind the wheel."
Tom Jensen is the Editor in Chief of SPEED.com, Senior NASCAR Editor at RACER and a contributing Editor for TruckSeries.com. You can follow him online at twitter.com/tomjensen100.