CUP: Manufacturers Even In Early Series Races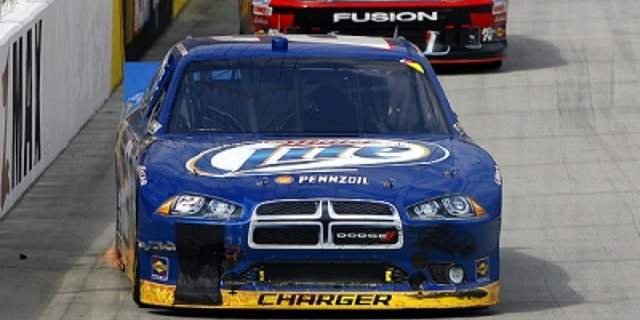 I think it should be evident to everyone now that we are simply picking up in 2012 where we left things in 2011.
So far this season, the NASCAR Sprint Cup Series has seen four different winners at four completely different style tracks. Additionally, with Brad Keselowski winning Sunday at Bristol Motor Speedway in his Dodge, all four manufacturers have a win under their belt.
Last year, we had 18 different winners out of 36 overall points events and that seems to be the same pattern four races into our 2012 season. No one seems to have that domination look about them so far. To me, that's the cool thing about our sport.
It doesn't matter where you qualify. It doesn't matter how well you do in practice. It doesn't matter who runs well one week. It all boils down to how you do on a specific race day.
Denny Hamlin is a good example of what I mean. He started the season with a top-five finish at Daytona International Speedway and then a win at Phoenix International Raceway. However, now after races at Las Vegas and Bristol, he has two 20th-place finishes to balance out his good start to the season.
The competition in our sport right now is so unbelievable. Things are tight and close. Every week, as it was in 2011, it just seems someone is stepping up and taking their share of the spotlight. It would not surprise me in the least if at the end of the season we have just as many winners as we did in 2011, if not more.
Right now, I believe we have 20 to 25 teams and drivers that on any given Sunday can pull into Victory Lane. Look at Clint Bowyer's Michael Waltrip Racing team. Bowyer wasn't even there last year. Now they have a sixth- and a fourth-place finish this year. On top of that, Brian Vickers, who hasn't even raced in Cup this year, climbs into the No. 55 car at Bristol, leads laps and comes home fifth at Bristol.
You can't say enough about how things have completely turned around for Brad Keselowski. Literally a year ago at this time, we weren't even talking about him or his team. They simply weren't a factor anywhere. They did some pit strategy at Darlington last year and came home with a top-five finish.
Later in May at Charlotte Motor Speedway, Brad sat on the pole for the Coca-Cola 600. Then the very next weekend at Kansas Speedway, he pulls into Victory Lane. From that point, it's been game on. Even with the Kansas win, he was outside of the top 20 in points and wasn't even qualified for the 2011 Chase for the Sprint Cup.
He and that team put such an impressive string of runs together, that not only did he make the 2011 Chase, but Brad even finished the season higher in the points than the defending champion, Jimmie Johnson.
Just compare the past two sprint races at Bristol for Brad. In 2011, he started back in 23rd and finished 18th. He then returns in August and wins the race. Here we are in 2012 and Brad's celebrating his second Bristol win of his career.
Will he be able to do it again in the fall? Well that's a hard question to answer. While you are always building your notes every time you race at a specific track, we all know it's never the same the second time around.