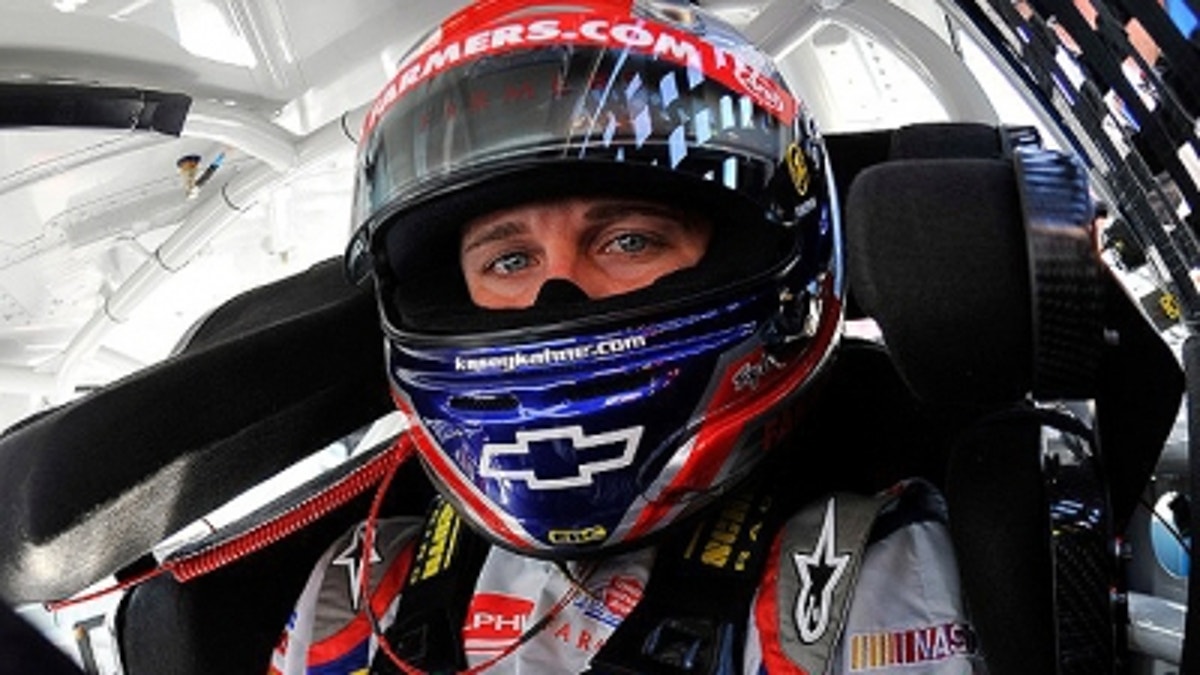 There's no reason to panic this early in a very, very long season (can anybody see Homestead out there?), but one rather interesting fact should alarm more than a few Sprint Cup drivers.
Mark Martin, the old pro who still turns the wheel better than most, is 16th in Cup points and is ahead of more than a handful of top guns. The unusual thing about this fact is that Martin has run three races and the other guys have run four.
Martin sat in 10th place in points entering Sunday's race at Bristol, but he stuck by his decision to pass up a full-schedule run and left his driver's seat to Brian Vickers (who, by the way, brought the car home fifth). Martin's absence dropped him six places in points.
Entering the fifth race of the season Sunday at Auto Club Speedway in Fontana, Calif., a notable collection of drivers is below what we might call the Martin Line, and all need a good performance in the Auto Club 400 to reassert themselves in the point chase:
KASEY KAHNE – Kahne is foremost among the drivers whose 2012 season has started under a black cloud. All set to begin afresh in a new ride at Hendrick Motorsports, Kahne has had fast cars through the first two months of the season but has crashed in three of the first four races. He's a dismal 32nd in points, having fallen six spots after – yes – being involved in the first big crash Sunday at Bristol.
KURT BUSCH – The elder Busch also has had potent cars in his first season at Phoenix Racing, but the wreck gremlins have ridden with him. His best finish after four races is 15th, and that calculates to 27th in points.
AJ ALLMENDINGER – The Dinger joined Kurt Busch as drivers making big team moves in the off-season, and the opening weeks haven't been pleasant for him, either. A 17th-place finish two laps down at Bristol put him 26th in points.
MARCOS AMBROSE – Ambrose's year to date is pockmarked by Phoenix, where he ran strong and was a top-five threat before late-race engine problems soiled the day. He's 24th in points and still looking for his first top 10.
JEFF GORDON – Engine failure. Eighth place. 12th place. Crash. That short review of Gordon's season leaves him 23rd in points.
Of course, a good race can turn the tables quickly in the standings. For examples, the Bristol runs of Earnhardt Ganassi Racing teammates Juan Pablo Montoya and Jamie McMurray. They entered the Food City 500 24th and 25th in points but finished seventh (McMurray) and eighth (Montoya) at Bristol. As a result, Montoya rolls into Fontana 18th in points, and McMurray is 19th.
This week, it's time for a few other guys to step up.
Mike Hembree is NASCAR Editor for SPEED.com and has been covering motorsports for 30 years. He is a six-time winner of the National Motorsports Press Association Writer of the Year Award.