CUP: Logano Eyes Wild-Card Boost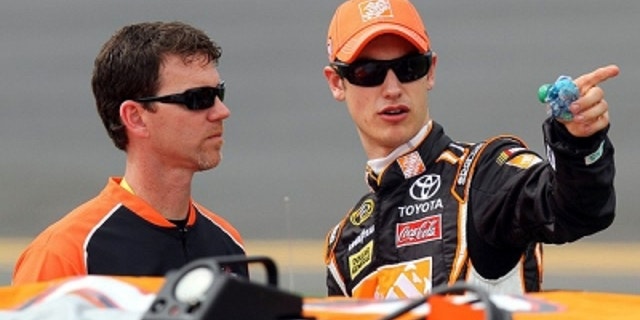 Joey Logano could help himself and his pals at Toyota with a win in Sunday's Crown Royal 400 at Indianapolis Motor Speedway.
Toyota, the newest kid on the block, has scored Sprint Cup wins at 21 of the current 23 venues on the schedule. The most glaring zero is IMS, the world's most famous speedway. The manufacturer owns eight top 10s at the track in five races. Auto Club Speedway in Fontana, Calif., is the only other current track where Toyota is winless.
An Indy breakthrough would be big for Logano because of the Toyota connection, but it would mean much more at other levels. It would give him a win in the season's second most important race, and it would carry much weight in his push toward making the Chase for the Sprint Cup.
Entering Sunday's race, Logano is 16th in points and fourth in the wild-card standings. With seven races left to the Chase cutoff, Kasey Kahne and Kyle Busch hold the wild-card spots, with Ryan Newman and Logano in their shadow.
A win Sunday would give Logano – at least temporarily – a wild card. If he's in the top five in the closing laps, things could get really interesting.
"You're out there to get the best finish you possibly can, and the points position we're in right now – we can't afford to have a bad finish, but a win is very valuable," Logano said. "You don't want to go 'checkers or wreckers' and go from a victory to a 25th place finish. That's something that I think we really can't take that big of a risk yet. I don't think we're at that point yet.
"We're still close in the points at getting maybe a couple spots in the point standings itself. I think we have to kind of wait and play it out. If we can do something a little crazy to get a win, yeah, we're going to do it. At the same time, the risk versus reward – we have to weigh both ends of it out."
The big key, Logano said, is to avoid an ugly race Sunday because other Chase candidates also are lurking.
"I think the 24 (Jeff Gordon) is somebody you would figure would get a win between now and the Chase," he said. "That's why I say that extra win is going to mean a lot. We're not that far from Kyle (Busch) in points (12), either.
"There are five, six or seven of us there very, very close, and one win would be a big deal. I think it's one of the most exciting races to the Chase that we've had, especially for me, because I'm involved in it. It does add a little more pressure, because you can't afford to have a bad race at this point."
Mike Hembree is NASCAR Editor for SPEED.com and has been covering motorsports for 30 years. He is a six-time winner of the National Motorsports Press Association Writer of the Year Award.