CUP: Leaving Richmond Behind?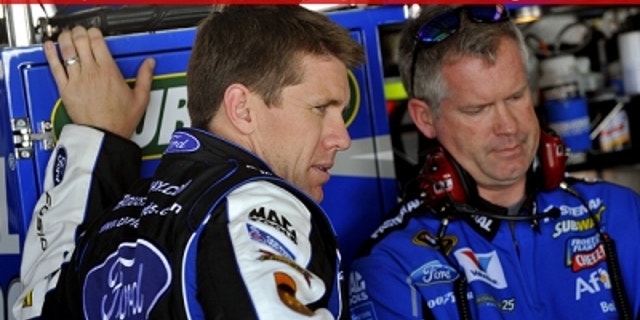 So, where does Carl Edwards go from here?
He seemingly had a put a season of relative malaise behind him Saturday night at Richmond, leading laps – finally – and positioning himself to score his first Sprint Cup win in over a year.
He not only escaped the web of not running at the front but also did it in style. He led 206 of the race's 400 laps, almost twice as many as any other driver.
Yet a mistake – or, maybe more accurately, several mistakes by various parties – resulted in Edwards limping home to a 10th-place finish and seeing his winless string stretch to 42 races. He hasn't won since March 2011 at Las Vegas.
Edwards' failure to win Saturday night was not as bad as the way in which it happened.
On a night when controversy enveloped at least two NASCAR decisions, Edwards was black-flagged for jumping a restart with 80 laps to go. NASCAR's electronic scoring had mistakenly posted Edwards as the race leader (in fact, Tony Stewart was in front), and Edwards said his spotter had confirmed that he was in first place. So Edwards took off from the outside front row position on the restart, and he did so a few feet in front of NASCAR's designated start area on the track.
NASCAR nailed Edwards with a pass-through penalty, dropping him to 15th position. He made up five positions before race's end, but his Richmond weekend forever will carry the shadow of what might have been.
"Everyone knew we were here and our Ford EcoBoost Fusion was fast and our pit crew was spectacular," Edwards said. "I would give anything to be able to have that start again and be able to race to the end. That was going to be a heck of a race."
Bob Osborne, Edwards' crew chief, was livid after the NASCAR penalty was revealed, and he engaged in a heated conversation with officials on pit road. Edwards met with NASCAR officials after the race to get an explanation of the events in question. Although he retained his composure afterward, he clearly was on the other side of the decision.
"We had to just agree to disagree, and that's the way it is," Edwards said. "They run the sport, and they do the best job they can, and I drive a race car and do the very best job I can. I'd rather not say what was said in there. This whole thing is very frustrating. I don't feel like we did the wrong thing."
Now it's on to Talladega and race 10. While his Roush Fenway Racing teammates Greg Biffle and Matt Kenseth wrestle at or near the top of the point standings, Edwards is ninth. He has a top finish of fifth this season.
Edwards' year is not all woe and gloom, however. He has two top fives and six top 10s. Only two drivers – Dale Earnhardt Jr. and Jimmie Johnson – have more top 10s, with seven.
Talladega is not Edwards' top track. He is winless there in 15 races, with four top-10 runs.
Mike Hembree is NASCAR Editor for SPEED.com and has been covering motorsports for 30 years. He is a six-time winner of the National Motorsports Press Association Writer of the Year Award.