CUP: Leaving Bristol With Horns Sounding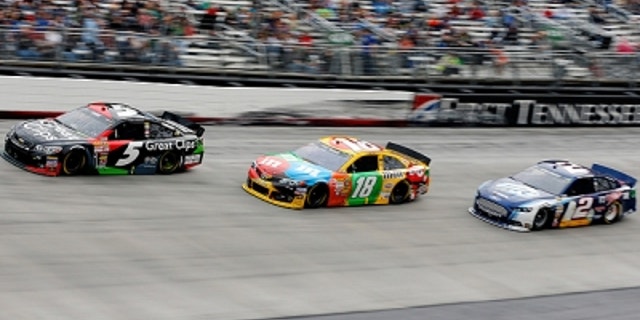 Bristol delivered.
Over a two-day stretch, in a time in which the competitive nature of NASCAR continues to be in question, Bristol Motor Speedway provided the landscape for two excellent races – Saturday's Nationwide and Sunday's Sprint Cup events.
Both started under the threat of bad weather. And there were storms – but not of the natural kind.
Saturday's came courtesy of young Kyle Larson, a smart driver who is steadily building a foundation that soon could put him on a superstar path.
He is not afraid to push the button, and he did just that in the final moments of Saturday's race, barreling out of the fourth turn at full sail in pursuit of the leader, Kyle Busch. He caught him near the start-finish line on the outside, and their cars hit side-to-side at the stripe as Busch won by a few feet. This happened despite the fact that lapped cars were stretched across the racing surface in front of them.
Busch got the trophy but was left wondering how, at 27, he got to be the "old" guy in the deal. Larson is 20. And looks 15.
Although he didn't win, the second-place finish – and the style in which it was scored – was big for Larson. Last month at Daytona, he slammed and bashed his way to a victory in a Late Model race and, in doing so, irritated quite a few drivers beyond the one he was slamming and bashing.
PHOTOS NNS Bristol
Kyle Busch Wins
Grit Chips 300 Nationwide Race
RESULTS: Grit Chips 300 Nationwide Race
He probably could have bulled his way past Busch Saturday and left the "old" guy in the wall, but he took the smarter route, going all out for the win on Busch's outside. At least one of his detractors, Darrell Waltrip, said the next day – on national television, no less – that he had changed his mind about Larson.
And then there was Sunday.
The Food City 500 showcased some of the best racing of the season, especially over the closing 150 laps. Eventual winner Kasey Kahne and Brad Keselowski had a titanic battle for the lead over a long series of laps, Kahne running on Keselowski's bumper and jumping inside and outside trying to find a way around.
PHOTOS:
Race Gallery
Kahne Wins Gallery
Kahne finally moved around Keselowski in heavy lapped traffic with 54 laps to go, but Keselowski returned the favor two laps later, leading 13 laps before a final restart left Kahne with the ace card.
Denny Hamlin, Matt Kenseth, Jeff Gordon and Kyle Busch also were involved in some tight racing at the front during the afternoon.
The 117 laps Hamlin led were largely forgotten at race's end, however, because of his on-track encounter with Joey Logano and their testy exchange immediately after the race. There was a minor scuffle in the infield, and then the argument resumed in news media circles and, still later, on Twitter.
POINTS After Food City 500
RESULTS: Food City 500
Indications are that it isn't over.
Bristol delivered.
Mike Hembree is NASCAR Editor for SPEED.com and has been covering motorsports for 31 years. He is a six-time winner of the National Motorsports Press Association Writer of the Year Award.