CUP: Late-Race Troubles Deny Johnson Shot At Win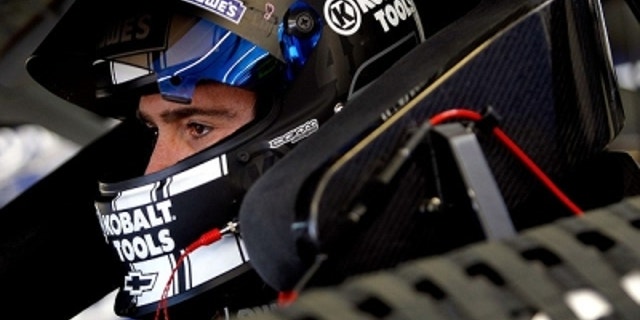 Five-time Sprint Cup champion Jimmie Johnson succinctly summed up his Saturday night following the Samsung Mobile 500.
"Second sucks," Johnson said.
Johnson, who led more laps than any driver in the 334-lap race at Texas Motor Speedway, used some more colorful language on his radio in the final 30 laps of a race in which Johnson appeared to have the field covered and was on the verge of delivering Rick Hendrick his elusive 200th victory as team owner.
Instead Johnson, who hasn't won since last October's Chase race at Kansas, was forced to lament what went wrong down the stretch in a race won by Greg Biffle.
"We had a great race car," said Johnson, who has had four second-place finishes since his last victory. "Our pit stops were amazing. We had a very fast race car. A little bit more respect from some lapped traffic and things could have been different. We just got tangled up in some lapped traffic and the 16 (Biffle) made a great move and got by me."
Johnson and Biffle were the class of the field and Johnson had a lead of more than a second over Biffle before traffic slowed him down. Johnson couldn't figure out why Ryan Newman was racing Johnson so hard. Newman was two laps down at the time and holding Johnson up cost him momentum and allowed Biffle to get a run on him and take the lead for good on Lap 304.
"My issue was with the 39 when I got inside him," Johnson said. "He was already a lap down and proceeded to race me and cost me the lead."
Once Johnson lost the lead, he was able to keep Biffle in his sights until he got high in Turn 3 and slapped the wall. That ended his chance at a victory and he was just trying to hold onto second place at that point.
Biffle said he was surprised how quickly he was able to catch up with Johnson once he caught him in traffic. Biffle said he gained some ground on Johnson during his final pit stop, which was the only place he was able to trim the gap until the final stretch. At one point in the race, Johnson led 103-consecutive laps in a race that had just two debris cautions and average a track record 160.575 mph.
Johnson started the race 10th but quickly moved to the front and took the lead for the first time on Lap 113.
It was a solid night in points for Johnson, who led three times for 156 laps, but the finish is what he'll remember.
"It's nice to be running well," said Johnson, who moved from 10th to eighth in points with his third top-five finish of the year. "It's nice to be in this position. But I want to get back to our winning ways real soon."
Unfortunately for Johnson, Saturday's race continued a recent tough trend for him and the Hendrick Motorsports stable. Two weeks ago Johnson or teammate Jeff Gordon seemed destined for a victory at Martinsville only to have a late caution set the stage for a wreck that ended both of their chances at winning.
Being close to winning isn't good enough for Johnson, who was relegated to a 12th-place finish at Martinsville after that accident.
"They're both frustrating," Johnson said. "The racer in me wants to win. We've been really close over the last five or six months. You look through last year even through different points, leading a lot of races and didn't execute for whatever reason."
Johnson said missing out on No. 200 for Hendrick isn't something he was thinking about.
"To be honest it hasn't played much on my mind because I just want to win and I know winning is what my job is about, winning is what Hendrick Motorsports is about, and if we win we'll take care of the 200th," said Johnson. "I seem to think about the 200th after the fact and think, man, Martinsville could have been an amazing one, two, three, this weekend, previous weekends. I think about it more after the fact, not leading up to or during the event."