CUP: Las Vegas Power Rankings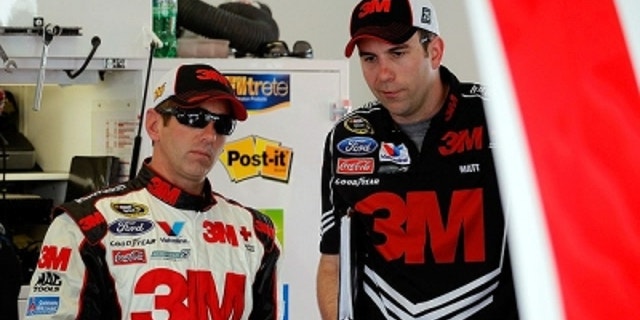 Tony Stewart held off Jimmie Johnson to win Sunday's Kobalt Tools 400 at Las Vegas Motor Speedway, but it's Greg Biffle who moves to the top of this week's FOXSports.com/SPEED.com Power Rankings.
This week's list:
1. GREG BIFFLE — Although he's yet to win a race this season, Biffle has finished third in all three races to date, showing impressive speed and consistency. Last week: 4th.
2. KEVIN HARVICK — Truthfully, Harvick's 11th-place run at Las Vegas was somewhat disappointing, but he's still second in points. Last week: 3rd.
3. JIMMIE JOHNSON — Forget Johnson's 23rd-place ranking in the Sprint Cup standings. He was second at Vegas after finishing fourth the previous week at Phoenix. Last week: 5th.
4. TONY STEWART — Stewart's victory was the earliest he's ever won a Cup race in the season. That could be bad news for the competition. Last week: 15th.
5. DENNY HAMLIN — After his stirring victory at Phoenix last week, Hamlin was bog slow all weekend, finishing a disappointing 20th at Las Vegas. Last week: 1st.
6. DALE EARNHARDT JR. — Junior led 70 laps at Vegas, 18 more laps than he led in the entire 2011 season. And yet he finished 10th. Last week: 6th.
7. MATT KENSETH — The Daytona 500 winner got wrecked late in the race after contact with his teammate, Carl Edwards, dropping him to 22nd in the final rundown. Last week: 2nd.
8. CARL EDWARDS — Yes, Edwards finished fifth at Las Vegas, his season's best result. But he won this race in 2011 and was never a threat this time around. Last week: 12th.
9. RYAN NEWMAN — A fourth-place finish by Newman made it two SHR cars in the top five. Last week: 20th.
10. MARTIN TRUEX JR. — Meh. Truex finished 17th at Vegas but he's 8th in points. Last week: 7th.
11. PAUL MENARD — An excellent seventh-place in Las Vegas means Menardigras is back, at least for this week. Last week: 18th.
12. MARK MARTIN — The ageless one drew the ire of Dale Earnhardt Jr., who put him into the wall. Last week: 10th.
13. KYLE BUSCH — It was a lousy weekend for Busch, who bounced off the wall en route to a 23rd-place finish. Last week: 8th.
14. CLINT BOWYER — A great sixth-place finish for Bowyer in the MWR Toyota. Last week: 19th.
15. JOEY LOGANO — A 16th-place run by Logano was the best of the three JGR Toyotas, not a happy situation. Last week: 9th.
16. JEFF BURTON — Just an OK day for Burton, who finished 14th in Las Vegas. Last week: 13th.
17. JEFF GORDON — Original four-time was bad most of the weekend, but salvaged a 12th-place finish, Last week: 16th.
18. BOBBY LABONTE — After an excellent start to the season, Labonte slumped to 26th at Vegas. Last week: 14th.
19. MARCOS AMBROSE — The affable Aussie came home 13th in Vegas, a solid effort. Last week: Unranked.
20. BRAD KESELOWSKI — The Blue Deuce was fast, but fuel pressure woes ruined the day for both Penske Dodges. Last week: 11th.
Tom Jensen is the Editor in Chief of SPEED.com, Senior NASCAR Editor at RACER and a contributing Editor for TruckSeries.com. You can follow him online at twitter.com/tomjensen100.