CUP: Kyle Busch Returns To MIS A Winner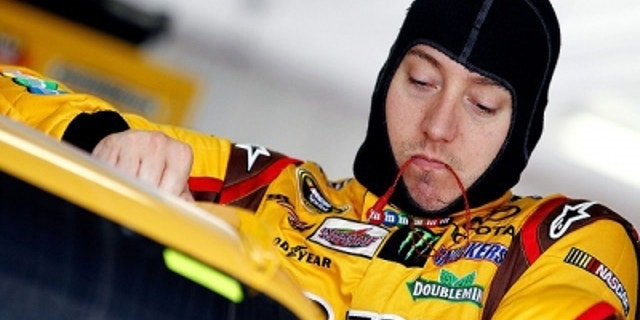 Kyle Busch could look at it as bad timing. Just as he figured out Michigan International Speedway and scored his first Sprint Cup win at the track, the place is repaved and offers a wide-open new challenge.
After scoring only one top five in his previous runs at the two-mile track, Busch finally broke through last August to notch his first MIS victory. Prior to reaching victory lane, he had led only 88 laps at the track.
Sunday's Quicken Loans 400 will be a new ballgame for Sprint Cup drivers as they compete on a freshly repaved surface that will dramatically boost speeds.
Fortunately for Busch, he enters the week with a knowledge edge. He was one of four drivers participating in a two-day Goodyear tire test on the new surface in April.
What will the new landscape be like? In a word, Busch said, "Fast." At a track that already hosted high speeds, the computer monitors will be humming this weekend.
"With a new surface, there's always a lot of grip," Busch said. "Obviously, it's going to be warmer than what it was back in April for the tire test, so it might not be as fast as it was then. I had missed the first day, and the other guys had already run the day before. So I'm out there, and I'm thinking that I was really fast.
"I was running 37.80 (lap times), and I asked my guys what those other guys were running, and they told me they're in the 37.20s right now. I couldn't believe it. But if you are just a little bit loose there, now you are nervous that just any little bit of getting outside the groove or having a little bit too much yaw will lead to a wreck. It was really intense. We finally got the car tightened up enough where the car wasn't nervous, and then it didn't make me nervous, and we were fine. But you are hauling there now, for sure."
MIS has been a multi-groove track since Cale Yarborough won the first race there in 1969. Drivers have been searching the surface for the best grip. That won't be a problem Sunday.
"Regardless of new pavement or not, it's wide-open racing and you can run from top to bottom," Busch said. "The biggest thing used to be to find grip there. But, with the new surface, there is a ton of grip now.
"Before, you had grip for maybe five laps, and then you'd just be out to lunch. But now the tire wear is all out the window, and the race track is going to be very fast. And the wide race track is good. That's what makes Michigan so exciting and so fun. That's the biggest deal about it.
"For me, coming to Michigan, I tend to run well there. For whatever reason, I haven't had too many great finishes to show for it until last year, and then we had a great year there and got our first win in August."
Busch has wrestled with engine troubles recently and has fallen to 12th in the point standings.
"It's very frustrating," Busch said. "These guys here at Joe Gibbs Racing and everybody on this team deserves better than this. It's unfortunate that we just aren't getting the results we need because Dave (crew chief Dave Rogers) and the guys have been working hard and bringing good cars to the race track. We just haven't been able to figure out what has caused our problems the last two weeks. I know a lot of people are working hard to get it figured out. All we can do is keep working hard on our race cars like we have been, and we can get back to those top-five finishes."
Mike Hembree is NASCAR Editor for SPEED.com and has been covering motorsports for 30 years. He is a six-time winner of the National Motorsports Press Association Writer of the Year Award.