CUP: Kyle Busch Misses On Trifecta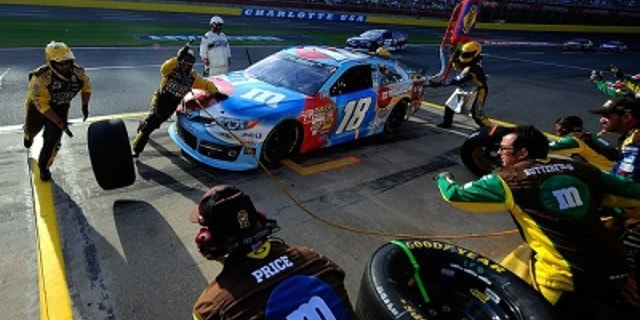 Kyle Busch's quest to sweep the three point races of Charlotte Speedweeks came to an abrupt end on Sunday night when his car blew up on Lap 258.
Although Busch won both the Camping World Truck and Nationwide series races, he was denied a Coca-Cola 600 win. Busch was running third at the time when an issue developed in his engine.
"Dropped a valve," Busch said. "Blowing up."
While crew chief Dave Rogers tried to remain optimistic by telling his driver, "See if it's a plug and we can fix it," Busch squelched the notion.
"There's nothing to fix," Busch said. "It's (expletive) broke. It's pointless."
Busch led 65 laps before retiring to the garage. His car was one of the cars severely damaged on Lap 121 when the cabling for the CamCat snapped on the front stretch at Charlotte Motor Speedway. After repairs, Busch resumed with the lead, but acknowledged after the failure he was just "a fourth- or fifth-place car."
Busch said that the issue with the cabling had nothing to do with his engine failure — and expressed his frustration with that.
"Earlier in the race, I commend NASCAR on taking a break there and giving us all a chance to repair our cars from the damage, at least the ones that had damage, and my guys did a great job," he said. "They work way too hard, not only every year but this year and tonight being able to get us back out there with a car that was capable of running in the top five . . . Certainly (Matt Kenseth) and (Kasey Kahne) were the class of the field. We led some laps. But catastrophic engine failure. Just unfortunate, I hate that it happens like that, seems to be that time of year again for us anyways."
Busch admitted that he feels frustration after suffering his third DNF of the season.
"What do you do?" Busch said. "You've just got to suffer through it and it's a shame because these guys got to suffer through it. We feel like we're one of the best teams out here yet we can barely salvage staying in the top 10 in points because of stupid things like this happening, flat tires and everything else, and that keeps us out of Victory Lane."
As to the incident with the camera, Busch said that he didn't see anything.
But he certainly felt it when the rope sliced into his car.
"I didn't see anything, I just heard a big thump on the right front tire," he said. "I thought the right front tire blew out, that's how hard it felt and what it felt like. It did have an effect of slowing my car down. I could feel it, like 'Whoa.' I don't know that anybody's ever seen that. Maybe now we can get rid of that thing."