CUP: Kyle Busch Breaks Bristol Record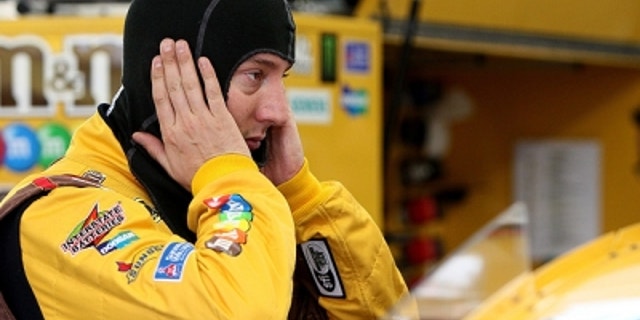 The Gen-6 car moved into a starring role Friday at Bristol Motor Speedway.
Kyle Busch whacked a decade-old record, winning the pole for Sunday's Food City 500 with a speed of 129.535 miles per hour. Busch's run wiped out the record of 128.709 Ryan Newman set in March 2003.
Busch traveled the half-mile in 14.813 seconds on a track where fans once wondered if the 15-second barrier would be broken.
How fast can the heavy Cup cars go here?
"I think a lot of it is probably [dependent on the] tire," Busch said. "You could put a softer tire on it and go lights out, but you'd have trouble making it much longer after that. With a little better tire, you could push lower lap times, but with higher loads you'd probably start seeing fatigue in parts."
Kasey Kahne took second place Friday and also broke the old track record. He ran 128.995.
"I was happy with how the car drove," Kahne said.
"We're going into the corner as hard as we ever have. Eventually, we'll probably go faster than that, but today that was a good lap."
Denny Hamlin, Busch's Joe Gibbs Racing teammate, was third. He also broke Newman's record.
Rounding out the top five were Brian Vickers and Paul Menard.
In the second five were Jamie McMurray, Brad Keselowski, Tony Stewart, Martin Truex Jr. and Joey Logano.
The top six drivers were in Toyotas and Chevrolets. The fastest Ford driver was No. 7 Brad Keselowski, who ran 128.211.
Series point leader Jimmie Johnson was 13th.
Rookie Ricky Stenhouse Jr. qualified 28th but will move to the back of the field after his team changed an engine after the original blew in practice before time trials.
Among the top drivers who struggled Friday were Newman, who was 31st, and Dale Earnhardt Jr., who was 32nd.
Danica Patrick had the day's 41st fastest speed and made the field on owner points.
Mike Hembree is NASCAR Editor for SPEED.com and has been covering motorsports for 31 years. He is a six-time winner of the National Motorsports Press Association Writer of the Year Award.