CUP: Kyle Busch Apologizes For Dover Tirade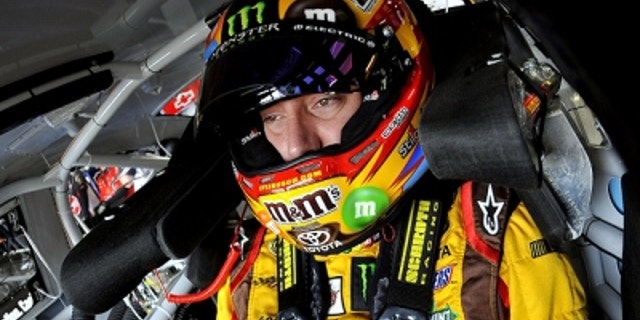 Apparently under pressure from Toyota, driver Kyle Busch released a statement Thursday apologizing for his post-race criticism of Toyota's NASCAR racing operation in Dover, Del., Sunday.
Busch criticized Toyota Racing Development over his team radio after leading 302 of the race's 400 laps but failing to win because of fuel mileage.
Toyota racing officials were upset about Busch's profanity-laced tirade. On Thursday, all of the principals released statements about it.
"I made some remarks out of frustration on my radio at the end of last weekend's race in Dover that were very misguided," Busch's statement said. "I owe my friends at Toyota and TRD an apology. We have a great partnership with TRD, and they built me a motor that helped me lead over 300 laps and nearly lap the field.
"It's just frustrating that the caution fell where it did, and suddenly it became a fuel-mileage race, and we were set up for maximum horsepower. Obviously, that worked well for most of the day, and you can't control when the cautions will fall.
"I think we have a great partnership with TRD, and we will continue to communicate with them on what our team is looking for. I'm looking forward to getting down to Talladega this weekend and focusing on the race."
TRD president Lee White said Toyota was disappointed in Busch's post-race reaction.
"We were disappointed with Kyle's post-race comments from Dover – a race that he dominated," White said. "Kyle's had a frustrating year with several car and engine mechanical failures which were not his responsibility, and we're working extremely hard on our end to improve our products and processes. We will continue to address these issues, but we're ready to put this behind us and move forward with the remainder of the season, including the Toyota drivers battling for the championship."
Team owner Joe Gibbs called Busch's comments "misguided."
"It has been a frustrating season for Kyle in many ways when you think about some of the issues we've had with that 18 team this year, and obviously some of those frustrations carried over to his finish last week in Dover," Gibbs said. "We were able to lead over 300 laps, but unfortunately the cautions didn't fall our way, and certainly you can understand the frustration of having to give up the lead late in the race. However, Kyle recognizes that his comments and the tone of his comments were misguided. We've been able to work through this issue, and I think everyone is ready to get back to the focus being on racing and Talladega."
Ed Laukes, a marketing vice president for Toyota, which supports both Joe Gibbs Racing and Busch's separate team, called Busch "a talented driver who wins races and can compete for championships, and he is a very important part of the Toyota brand. We look forward to a long-term relationship with Kyle and Joe Gibbs Racing for years to come."
Busch failed to make the Chase for the Sprint Cup this season.
Mike Hembree is NASCAR Editor for SPEED.com and has been covering motorsports for 30 years. He is a six-time winner of the National Motorsports Press Association Writer of the Year Award.