CUP: Kurt Busch Seeks Rebound At Daytona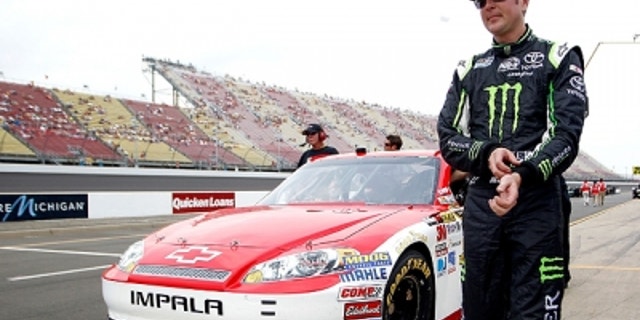 NEWYou can now listen to Fox News articles!
Kurt Busch opened the new Sprint Cup season in February with a new deal – as driver for Phoenix Racing – and with the knowledge that his best shots at victory in what might be a difficult season would be at the circuit's two restrictor-plate tracks.
At Daytona in February and then at Talladega, Busch didn't get a chance to flex team owner James Finch's considerable muscle at the two tracks. He had strong cars at both events but was blocked from showing his and the team's potential by crashes.
Now it's back to Daytona – for Saturday night's Coke Zero 400, and Busch again will tackle plate racing in the car that ran so well at Daytona in February and scored a win at Talladega with Brad Keselowski behind the wheel in April 2009.
Although Busch is winless at Daytona, he has 10 top-five runs in 23 starts at the track, and he has been a Daytona 500 runnerup three times.
"This is a race anybody can win," Busch said. "This is one of those races where no one team or individual has an advantage because anything can happen. Everything else kind of goes out the window.
"We've said the same thing before every one of these restrictor-plate races – we know going in our chance of getting the win is as good as anybody's. The biggest thing is just getting to the end of the race, which, if you look back to February, can be tough."
Racing at Daytona and Talladega now has more of the flavor of pack competition that has been the historical mode at the giant tracks, although stretches of tandem drafting remain.
The key Saturday, Busch said, is to work the majority of the race so that you're in position to be a factor at event's end.
"As a racer, you want to be up front the whole race," he said. "At tracks like Daytona and Talladega, you have to be a little more calculating in how you run those races and where you position yourself for the early part of the race. It's one of those days where 'to finish first you must first finish.'
"So you end up driving a little defensively for the first 350 miles of the race, just kind of feeling out your car. Maybe you will test it a little bit by going to the front to see how you stack up against the other cars, but, after that, you are in defensive mode and just trying to take care of your equipment for that final dash. It's all about patience."
Sprint Cup practice rounds are scheduled at Daytona at 4 p.m. (ET) and 6:30 p.m. Thursday. Both will be televised by SPEED.
Mike Hembree is NASCAR Editor for SPEED.com and has been covering motorsports for 30 years. He is a six-time winner of the National Motorsports Press Association Writer of the Year Award.