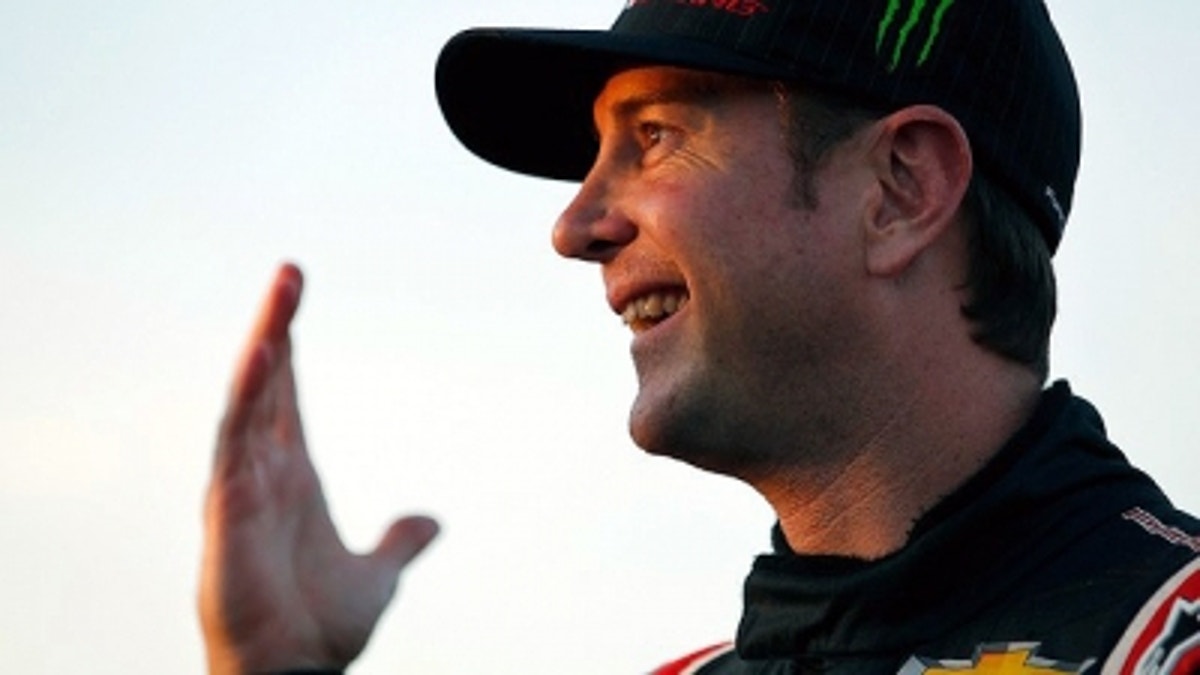 When Kurt Busch pulled on to Charlotte Motor Speedway Thursday night for his Coca-Cola 600 qualifying lap, he was the 23rd driver to make an attempt.
And when the flat black No. 78 Furniture Row Racing car crossed the start-finish line completing Busch's lap, something remarkable happened: The crowd burst into thunderous applause.
Busch had just knocked Jimmie Johnson off the provisional pole for NASCAR's longest race, and the crowd loved it. Ultimately, Denny Hamlin would go on to win the pole, relegating Busch to the second starting spot.
No matter.
The point had been made — the No. 78 was bad fast, something Busch reinforced when he was second in both practices on Saturday, and Busch had newfound popularity.
It's been quite a reversal of fortune for Busch, who unquestionably will be one of the favorites to win tonight at CMS.
A year ago, Busch was struggling with the low-budget Phoenix Racing team, a plucky but underfunded team with only a fraction of the resources Busch was used to at Penske Racing and Roush Fenway Racing.
This year, though, has been all about redemption for Busch, and a new shot of energy for the driver and his new team — Furniture Row Racing. Coming into tonight's race, Busch is 18th in points with a realistic chance to win a race or two and make the Chase for the Sprint Cup.
In its first 199 NASCAR Sprint Cup races dating back to 2005, Furniture Row as a team had just three top-five finishes. In his first five races this season, Busch finished in the top five twice.
More recently, Busch won the pole at Darlington and two of five segments of last week's Sprint All-Star Race before finishing fifth.
By dramatically raising the bar for what had been a backmarker team, Busch has earned new respect. And by hopping into, first, a V8 Supercar at Circuit of the Americas in Austin, Texas, and, then, one of Michael Andretti's Indy cars at Indianapolis Motor Speedway — and immediately going flat-out in both — Busch has definitely opened some eyes.
"I'm proud of him," five-time champion Jimmie Johnson said after Busch lapped IMS at 218 miles per hour. "I'm really happy that a NASCAR driver has had a chance to go get in good equipment over there and go to a track and show what we can do."
"Kurt, I think we all agree, is one of the most talented guys out there," said AJ Allmendinger, who was not surprised by Busch's pace at Indy. "… He definitely isn't scared to go out there and run wide open."
Add it all up and it's been quite a ride through the first five months of 2013.
"It's been a great year," said Busch. "It's been a year of opportunities. And when you have the phone ringing like it is, and you're on a one-year deal, you're exploring all types of options. … And it's gotten so wide that I'm looking at the open-wheel cars and the Australian V-8 Supercar guys called up. And so it's been a great ride."
Where that ride takes Busch remains to be seen.
He is rumored to be in line to move to Richard Childress Racing next year, assuming Busch stays in NASCAR. Or maybe he does venture off into another series.
"Now the phone is ringing and people are giving me opportunities," Busch said. "Michael Andretti just doesn't call every day to give you an Indy car to drive in the month of May."
But tonight, Busch's focus won't be on whether to drive in NASCAR or IndyCar or the V8 Supercar Series next year. It will be about finding victory lane after 600 long, hard miles.
"I'm pumped up," said Busch. "I think the race for us will come to us. And we just have to work hard ... to get the car dialed in to run 50-lap stints instead of the 20-lap stints that you see in the All-Star race. Furniture Row keeps delivering cars each week that are fast, and I want to deliver for them."
Tom Jensen is the Editor in Chief of SPEED.com, Senior NASCAR Editor at RACER and a contributing Editor for TruckSeries.com. You can follow him online at twitter.com/tomjensen100.